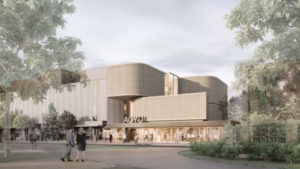 The Art Gallery of York University's (AGYU's) new, stand-alone art gallery in Toronto, to be designed and constructed by architectural firm Hariri Pontarini Architects (HPA), will embrace a vision of art and connectedness.
HPA was one of three firms that were short-listed during an online design competition.
"The new, stand-alone art gallery at York University will be an important hub for artistic engagement and the pursuit of creative excellence at the university, in our community, and beyond," said Rhonda Lenton, York University president. "The new design reflects our vision of an accessible and collaborative art gallery that serves as a space for creation, exhibition, and appreciation of diverse art and culture."
The three-storey building will highlight architectural innovativeness and define a space for the exhibition of contemporary and historic art, including a ground-level event space with four separate gallery spaces set within a redefined xeriscape garden.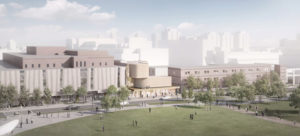 The gallery will be a versatile, yet distinctive space for a multiplicity of artistic voices and forms. It will also enhance the gallery's ability to continue its advocacy of underrepresented communities, contribute to artistic production, and help amplify artists' voices.
"We are thrilled to be working with York University to build upon the AGYU's rich history and help reimagine its future," said Siamak Hariri, founding partner at Hariri Pontarini Architects. "To signify this transformation, we were inspired by metaphor and nature. Like a butterfly, each of the five wings of the new gallery extend their reach out to the campus and of course beyond."
Responding to the AGYU's aspiration to expand the social and civic role of the gallery, the building will have a powerful, new presence, embracing the full University Common, and welcoming and attracting visitors to all the wonder it has to offer."
HPA's design, led by Hariri, was selected for its visual strength and magnetizing draw with a vision to generate flow and connection while centering the arts on campus. The design expressed a nuanced understanding of art, its role in society, and the framework needed to support art and the curatorial process.
Combined with the AGYU's current spaces, the new building will form a unified art institution that will magnify the breadth of the gallery's scope, with a re-envisioning of the university's art collection.
The AGYU opened in 1988 and moved into its current 279-m2 (3000-sf) space in 2006.