Hamilton city project to marry affordable housing with green efficiency
by arslan_ahmed | September 7, 2022 11:45 am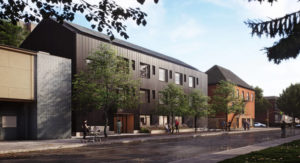 Montgomery Sisam Architects'[2] new affordable housing project, Hamilton Passive House Modular Housing, will significantly reduce energy consumption, achieved through a self-regulated climate and temperature control system, and a near complete reliance on solar power.
To be developed in collaboration with NRB Modular Solutions, the building, will be located at 253 King William Street in the centre of downtown Hamilton. It will use electric heating and cooling systems, which will relieve the need for active regulation of climate and temperature. This promises lower energy consumption for the building, as well as decreased costs of living for the residents over their lifetimes. Moreover, photovoltaic panels will be installed in an area of the building which gets the most sunlight. The latter hopes to make the building completely self-sufficient in its power production, without the need to depend on an outside energy source.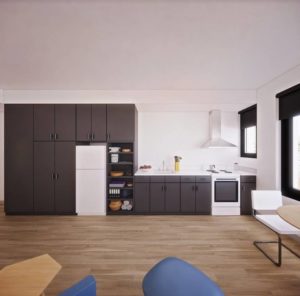 The affordable housing will achieve further sustainability goals through modular construction to build 24 studio-style units off-site, furnished with wood interiors in lobby and public areas. The units will be transported to the site within an overall constrained construction timeline.
Endnotes:
[Image]: https://www.constructioncanada.net/wp-content/uploads/2022/09/AA_PassivhausProject_1.jpg
Montgomery Sisam Architects': https://www.montgomerysisam.com/
[Image]: https://www.constructioncanada.net/wp-content/uploads/2022/09/AA_PassivhausProject_2.jpg
Source URL: https://www.constructioncanada.net/hamilton-city-project-to-marry-affordable-housing-with-green-efficiency/
---