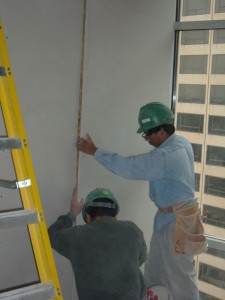 The Gypsum Association has developed a product category rule (PCR) document for North American gypsum boards.
The PCR provides a cohesive set of requirements and guidelines for developing environmental product declarations (EPDs) for North American produced gypsum boards in compliance with International Standards Organization (ISO) 14025, Environmental Labels and Declarations: Type III Environmental Declarations: Principles and procedures. Further, the PCR specifies requirements of the lifecycle assessment (LCA) that conform with the ISO 14040, Environmental Management: Life Cycle Assessment—Principles and Framework.
"Developing PCRs is an essential and requisite step toward producing an EPD," the association's deputy executive director Stephen H. Meima told Construction Canada Online. "With an EPD for North American produced gypsum boards, building professionals will have a tool that helps them understand gypsum board's comparative environmental performance. Our EPD will serve as an industry 'nutrition label' that validates gypsum board's role in creating and maintaining a sustainable built environment."
The PCR was created in collaboration with Vancouver's FPInnovations and can be accessed by clicking here.