Governor General's Medals in Architecture announced
May 14, 2018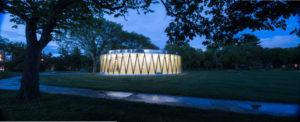 The 12 winning projects represent many types and sizes of buildings from an international airport and sports complexes to a park pavilion and small hospital. They include a visitor centre at a national historic site, a library in a 170-year-old church, art museums, and houses.
The biennial Governor General's Medals in Architecture celebrate outstanding design in recently completed projects by Canadian architects. The jury considers elements such as conceptual clarity, compatibility with the site, detailing, innovation and uniqueness, and sustainable design. They are jointly awarded by The Royal Architectural Institute of Canada[2] (RAIC) and the Canada Council for the Arts[3].
"Architecture is a powerful art form that can affect people in their daily lives," said Simon Brault, CEO of Canada Council for the Arts. "It can inspire, soothe, and transport us to other realms. The winners of the 2018 Governor General's Medals in Architecture can be justly proud they have designed places that, for instance, motivate athletes to surpass themselves, appease the suffering of people grappling with illness, or build bridges to the past. These winners have not been afraid to break with convention."
Winning projects span the country from rural Nova Scotia to Whistler (British Columbia).
The 2018 winners of the Governor General's Medals in Architecture[4] are:
Audain Art Museum[5], Whistler—Patkau Architects[6];
Borden Park Pavilion, Edmonton—gh3[7];
Casey House[8], Toronto—Hariri Pontarini Architects[9];
Complexe Sportif Saint-Laurent[10], Montréal—Saucier+Perrotte Architectes[11] and HCMA[12];
Fort McMurray International Airport[13], Fort McMurray, Alberta—Office of mcfarlane biggar architects + designers[14] (omb);
Fort York Visitor Centre[15], Toronto—Patkau Architects/Kearns Mancini Architects[16];
Maison de la littérature[17], Québec City, Québec—Chevalier Morales Architectes[18];
Michal and Renata Hornstein Pavilion for Peace[19], Montréal—Atelier TAG[20] and Jodoin Lamarre Pratte Architectes[21] in consortium;
Parallelogram House, East St. Paul, Manitoba—5468796 Architecture[22];
Rabbit Snare Gorge, Inverness, Nova Scotia—Omar Gandhi Architect[23] and Design Base 8[24];
Two Hulls House, Port Mouton, Nova Scotia—MacKay-Lyons Sweetapple Architects[25];
Stade de Soccer de Montréal[26], Montréal—Saucier+Perrotte Architectes and HCMA
The awards will be presented during a ceremony in Ottawa in the fall.
Endnotes:
[Image]: https://www.constructioncanada.net/wp-content/uploads/2018/05/04dusk.jpg
Royal Architectural Institute of Canada: https://www.raic.org/
Canada Council for the Arts: http://canadacouncil.ca/
Governor General's Medals in Architecture: https://www.raic.org/news/2018-governor-generals-medals-architecture-honour-outstanding-buildings-across-canada
Audain Art Museum: https://audainartmuseum.com/
Patkau Architects: https://patkau.ca/
gh3: http://www.gh3.ca/
Casey House: https://www.caseyhouse.com/
Hariri Pontarini Architects: https://www.hariripontarini.com/
Complexe Sportif Saint-Laurent: http://ville.montreal.qc.ca/portal/page?_pageid=7937,86795572&_dad=portal&_schema=PORTAL
Saucier+Perrotte Architectes: http://saucierperrotte.com/en
HCMA: https://hcma.ca/
Fort McMurray International Airport: http://www.flyymm.com/
Office of mcfarlane biggar architects + designers: http://www.officemb.ca/
Fort York Visitor Centre: http://www.fortyorkfoundation.ca/the-visitor-centre/
Kearns Mancini Architects: http://kmai.com/
Maison de la littérature: http://www.maisondelalitterature.qc.ca/
Chevalier Morales Architectes: http://www.chevaliermorales.com/
Michal and Renata Hornstein Pavilion for Peace: https://www.mbam.qc.ca/en/museum-district/pavilion-for-peace/
Atelier TAG: https://designmontreal.com/en/directory-designers/atelier-tag
Jodoin Lamarre Pratte Architectes: https://jlp.ca/en/
5468796 Architecture: http://www.5468796.ca/
Omar Gandhi Architect: http://omargandhi.com/works/rabbit-snare-gorge/
Design Base 8: http://designbase8.com/
MacKay-Lyons Sweetapple Architects: http://www.mlsarchitects.ca/
Stade de Soccer de Montréal: http://ville.montreal.qc.ca/stadedesoccer/
Source URL: https://www.constructioncanada.net/governor-generals-medals-in-architecture-announced/
---