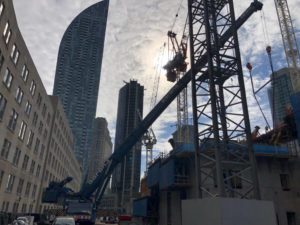 Sarens, global heavy lifting, engineered transports, and crane rental services firm, assisted SuperMetal in the construction of the Union Station overbuild in downtown Toronto. This project is part of the expansion of Union Station to connect two new office buildings on top of the station.
Once completed in 2024, this project will have a significant impact on its surroundings, multiplying the residential and office spaces in the area and reducing traffic—as all mobility services will be in a single location.
To carry out this work, Sarens' engineering team faced a major challenge, as the crane used a 562-tonne (620-ton) Liebherr LTM 1500 8.1, which had to be placed on an elevated suspended slab. To do this, the team had to ensure the slab would be able to support the outrigger loads from the crane hoisting.
As part of this process, SuperMetal provided special steel supports, which were fabricated and welded directly on site to ensure the viability of the heavy lifting work. Sarens also employed a tower crane to hoist steel nodes into place.
The firm has extensive experience in the Canadian construction industry and in similar projects. Among others, the company recently worked on the Finch West station project in Toronto, installing 30 pre-cast ceiling panels of 2.95 tonnes (3.25 tons), each below ground level. Sarens also contributed to the renovation of Union Station, where its engineering crew worked on the hoisting and subsequent installation of several iron beams, weighing approximately 8.53 tonnes (9.4 tons), for the flying garden that connects the north and south towers of the station.