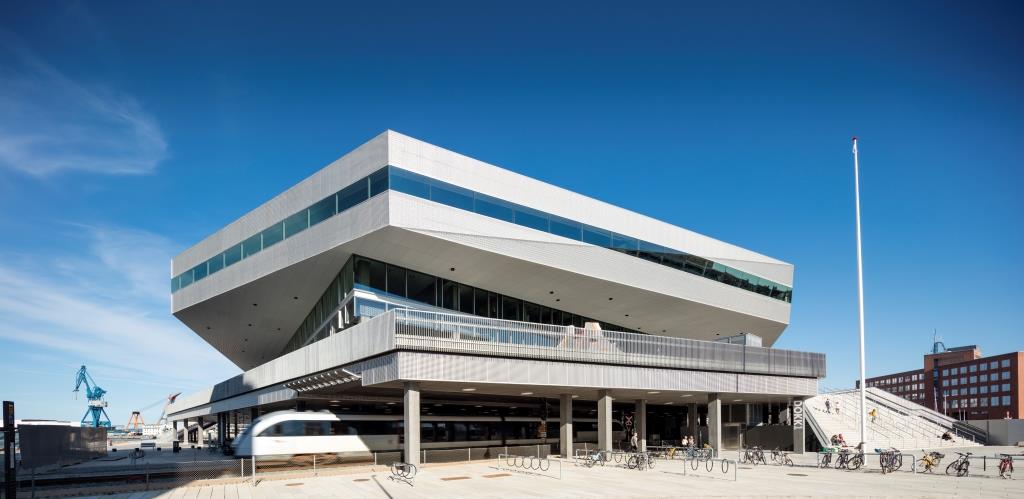 The International Federation of Library Associations and Institutions (IFLA) named Aarhus, Denmark's Dokk1 Library the 2016 Public Library of the Year.
Dokk1 became the first Danish library to win the award; it beat out the Skidmore, Owings, and Merrill-designed (SOM) Chinatown branch of the Chicago Public Library and two Australian projects: Geelong Library & Heritage Centre (designed by ARM architecture) and the Success Public Library (Bollig Design Group).
The project was designed by Schmidt Hammer Lassen Architects, which is internationally known for its open and public approach to architecture. The firm has an extensive track-record of designing libraries, including the Halifax Central Library in Nova Scotia, which won the Governor General's Medal  in Architecture and was designed in partnership with Fowler Bauld & Mitchell Ltd.
Completed in June 2015, Dokk1 opened as the largest public library in Scandinavia. It houses a citizen service centre, office space, automated parking for 1000 cars, and new harbour-side public squares. Situated at the mouth of the Aarhus River in one of the most prominent sites of the city centre, the 35,600-m2 (383,195-sf) building is designed as a place for exchanging knowledge and opportunities and a multicultural meeting point. Dokk1's popularity was instant; within seven months of its opening it had welcomed a million visitors.
"Dokk1 is a covered urban square—an undulating landscape, which facilitates learning, knowledge sharing, innovation, and a sense of community," said Kim Holst Jensen, senior partner of Schmidt Hammer Lassen Architects. "Our goal has been to create a stimulating and dynamic environment at this unique location that fosters valuable and meaningful relationships between people; a cultural centre that everyone can see themselves in. Architecture, with all its supporting disciplines has served to fulfil this greater ambition and we have been overwhelmed by how the people of Aarhus have embraced Dokk1 since opening day."
The jurors praised the project based on its unique and central location in the city; stating the library has become a key element in the forward-looking strategy for creating more life by the harbour, which used to be a practically deserted area.  They also found great architectural value in the simple and consistent choice of materials throughout the building, which adapts naturally to the harbour environment.
Further, the jurors said materials are of a high quality without being ostentatious, which makes the building stand out as a place of diversity with room for everybody.
For more information on the winner and the other recipients, click here.