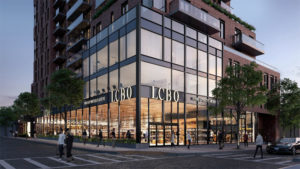 Located at the 900 St. Clair West building, Toronto, a new LCBO's framed glass façade will add a modern edge to the retail experience while allowing the retail store to seamlessly integrate into a neighbourhood that is quickly becoming well-known for its restaurants, green spaces, and multi-generational population.
Designed by Quadrangle, 900 St. Clair West takes cues from the surrounding neighbourhood, paying homage to the iconic brick century homes of 'old Toronto,' many of which have stood more than 100 years. New modern design, coupled with the LCBO's focus on supporting local breweries and cideries, compliments the new wave of millennial-owned businesses in the area and the elevated high street feel of the community.
LCBO is the first retail tenant to be announced for the new community and will occupy over 743 m2 (8000 sf) at the base of the mid-rise, 12-storey development.
"We are excited to bring a brand-new LCBO to the St. Clair West community, reflecting the continuing evolution and transformation taking place in this incredible neighbourhood," said Brett Miller, CEO at real estate firm Canderel. "Our goal was to secure an anchor tenant that would bring convenience, value, and high design to residents, and we wanted to work with an organization that has strong community ties. LCBO was a natural choice, as we are all aware of their long-standing service to communities and support of local breweries across the province."
Inside the new LCBO, there will be a 15-m (50-ft) long wall of vintage wines, a beer alcove, as well as a modern interior with open sight lines throughout the store, and contemporary finishes.