Risks of wet areas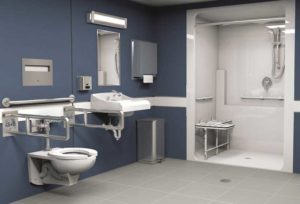 Areas within healthcare facilities containing plumbing fixtures—sometimes referred to as 'wet' areas—amplify the risk of slips and falls for patients and staff. These include showers, bathtubs, patient bathrooms, and areas adjacent to toilets.
The elevated safety risks associated with wet hands is one reason why both the United States and Canadian building codes, including NBC and the Americans with Disabilities Act (ADA) standards for accessible design, mandate the placement of grab bars adjacent to plumbing fixtures. The purpose of a grab bar is to provide a secure place for a patient's hand to grip as they access, use, and leave a shower, bathtub, or toilet, thereby preventing falls. Those who design and specify building materials for healthcare facilities have an opportunity to enhance patient safety by selecting products demonstrated to be more effective in these areas.
Recent changes in slip-resistance language
Design professionals seeking to enhance patient safety and meet code requirements should review recent updates to NBC as well as new testing data comparing the slip resistance of satin- and peened-finish grab bars.
Historically, architects designing wet areas have specified peened- or knurled-finish grab bars to satisfy slip-resistance requirements of the building code. However, in 2018, new test data revealed satin-finish grab bars can not only satisfy this requirement, but also provide superior grip performance in wet areas. ASTM F2961, while not required by building codes, is a methodology that can provide a quantitative measurement of an individual's ability to grip a solid object and twist in a defined direction. This test was originally developed to help understand how materials and construction of gloves affect gripping performance. However, the test provides a framework through which other variables can be measured, such as comparing the gripping performance of bare hands to wet ones.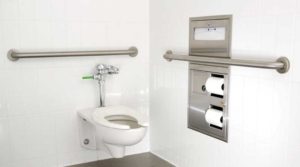 The standard F2961 test utilizes a rotational gripping motion on a 50-mm (2-in.) diameter glass rod gripping surface to determine how much torque a person can apply to the surface when bare-handed and compare it to how much torque the same person can apply when wearing the glove being evaluated. The difference in the two torque readings is useful in determining if the glove enhances or reduces a person's ability to grip a hard surface.
In September 2018, a test by a washroom equipment manufacturer was performed by Bureau Veritas Consumer Product Services. In this version of the F2961 test, instead of using a standard 50-mm diameter glass rod gripping surface, peened-finish and satin-finish grab bar tubes were used. Additionally, the person applying the torque was always bare-handed. A panel of five people was used to perform the test five times with dry hands and five times with wet hands. This testing methodology is useful in evaluating the slip-resistance of grab bar finishes because the test's objective is to determine if different surfaces provide the same grip performance and provides a standard methodology to ensure the panelists' grip trials are performed in a consistent manner.
The test concluded the slip resistance of a satin-finish grab bar surface provides similar traction to a peened-finish grab bar when grabbed with a dry hand. However, when grabbed with a wet hand, the surface of the satin-finish grab bar was found to provide 10 per cent more traction than the surface of the peened-finish grab bar.
For architects designing healthcare facilities, these findings create new design opportunities.
Of course, slip-resistance is not the only consideration when it comes to specifying grab bars. In healthcare settings, hygiene is also a priority. Accordingly, ease of cleaning is also a concern, and satin-finish surfaces are easier to clean compared to the somewhat rough, textured surface of peened and knurled finish grab bars. Satin-finish grab bars are easier to clean than peened or knurled-finish grab bars because they have a uniform surface. Satin-finish grab bars do not have irregular surfaces with high and low points or the machined grooves found on peened or knurled-finish varieties. Irregular surfaces with high and low points or machined grooves provide areas in which dirt and cleaning solutions can either collect and they can take additional time to wipe clean or sanitize.
As mentioned, specifying a satin-finish grab bar surface could provide 10 per cent more traction with a wet hand, while also enhancing hygiene and reducing maintenance costs for healthcare facilities at the same time (based on the results of ASTM F2961, Standard Test Method for Characterizing Gripping Performance of Gloves Using a Torque Meter, conducted by Bureau Veritas Consumer Product Services
in 2018). Additionally, in the author's experience, peened- and knurled-finish grab bars typically have an approximate 20 per cent price premium compared to satin-finish grab bars.
Specification language for slip-resistant grab bars
In conclusion, architects and specification writers can now remove peened or knurled finish for grab bars and replace them with satin-finish, slip-resistant surfaces to ensure compliance with most Canadian building codes. Satin-finish, slip-resistant grab bars offer better value with greater grip performance for healthcare projects. They are easier to clean and are available at a lower cost to building owners. Design professionals may even prefer satin-finish grab bars due to their simpler, sleeker surface appearance.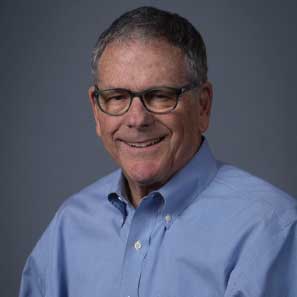 Alan Gettelman is vice-president of external affairs at Bobrick Washroom Equipment, Inc. He is responsible for counselling on the preparation of architectural specifications and on fire and building codes, and accessibility standards compliance. Gettelman can be reached via e-mail at agettelman@bobrick.com.

Control the content you see on ConstructionCanada.net!
Learn More.