Fracking sand facility built to another level
by | December 2, 2014 12:51 pm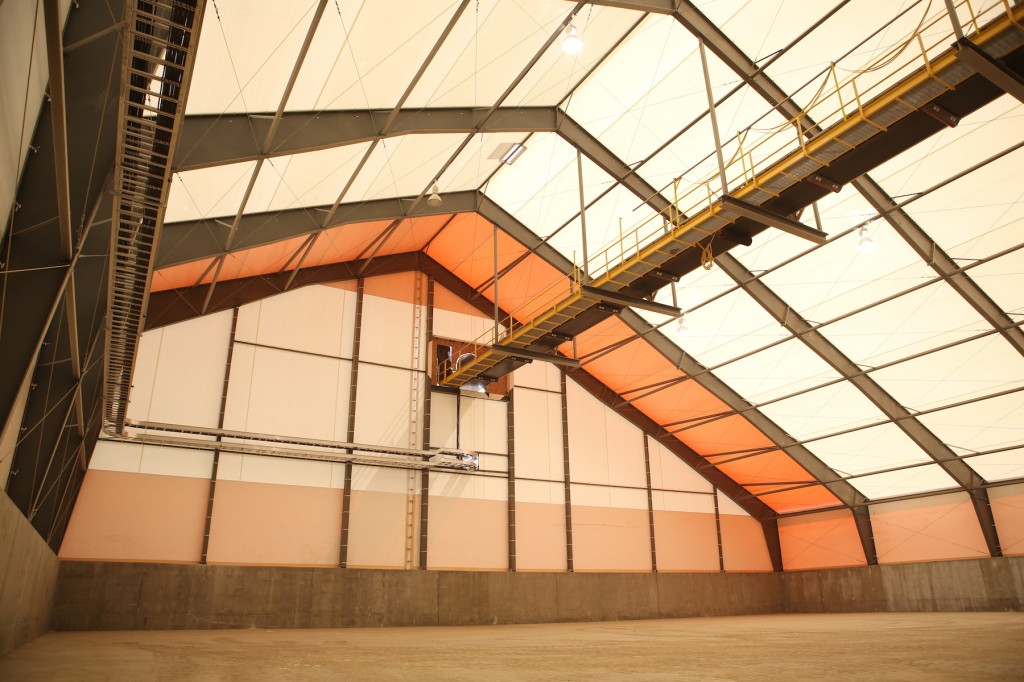 By Jim Kumpula
Hydraulic fracturing, or 'fracking' as it is commonly known, is a big buzzword within the Canadian oil and gas production industry. As this drilling technique continues to expand, the demand on material producers to deliver frac sand to aid in the fracturing process has naturally grown along with it.
Source Energy Services (SES) is an industrial sand supplier, with mining and processing operation in Sumner, Wisc., that is one of the largest production facilities for silica sand; it is set up to produce over two million tonnes of proppant annually. Sand from Wisconsin is then delivered to storage terminals positioned near key shale plays across the continent.
Local infrastructure in many cities and surrounding areas has not developed fast enough to keep pace with booming oil and gas activity. Production and support companies themselves have had to grow so fast many have resorted to makeshift options, particularly when it comes to erecting any buildings required for their operations.
SES has been determined to avoid the pitfalls of growing too quickly. Rather than putting up lesser structures that only meet immediate needs, the company strives to be at the forefront of trends and facility builds, ensuring their buildings will continue to serve them well for the long haul. This was the mindset at work when determining how to proceed with the company's new frac sand distribution facility in Wembley, Alta.
The purpose of the building was to provide large-format sand storage for the area's oil and gas industry. In fact, on completion, it became the largest facility for this purpose in the Western Canada Sedimentary Basin. The facility is capable of receiving several unit trains on a monthly basis, with each train usually carrying over 10,000 tonnes of material. By contrast, Mike Miller, SES construction vice-president, noted most transload distribution centres in the area provide about one-fifth of that.
"We have a 'tank farm' utilizing 300-tonne tanks about 25 km [15.5 mi] away that was constructed as a transload storage facility for many suppliers," he said. "However, as drillers have been needing to facilitate larger fracs, silos or tank transloads do not have the operational capacity to fill those needs. The large-format facility in Wembley is designed to solve any supply issues that a driller would ever have—mainly, a reliable source of sand."
In keeping with its philosophy of advancing construction methods and facilities to a higher level, while still taking into account the timeline that would be required to engineer and construct a new building, SES focused its search on tension fabric building contractors; it reviewed and compared specifications, materials, and costs from a handful of manufacturers.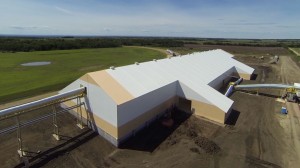 In the design phase, the company worked to define exact needs to narrow the parameters of the facility. One key goal was to house all workers and operations inside the building, protected from the constantly gusting winds of the Alberta prairie. This type of initiative could have resulted in a massive structure exceeding the scope of what was truly needed, but SES and the contractor worked together closely to come up with the appropriate heights and lengths, as well as multiple lean-to areas.
The outcome was a building designed to allow the full use of its storage volume of almost 84,950 m3 (3 million cf). The main body of the fabric structure measures 43 x 146 m (140 x 480 ft)—with three lean-to sections measuring 18 x 12 m (60 x 40 ft), 18 x 24 m (60 x 80 ft), and 7 x 61 m (24 x 200 ft), respectively—adding up to a total of 7358 m2 (79,200 sf). An offset peak and varying leg heights further characterize a building fully customized for the specific facility SES envisioned.
"We have a drive aisle connecting the entire building at its core, and it allows us access to our stock piles," said Miller. "We utilize two of the lean-to spaces to load our feed hoppers, and the other lean-to is a heated shop that has lined walls and is equipped with infrared heating units. We have 18 x 18-ft [5.5 x 5.5-m] access doors big enough for loaders and skid steers to enter. The whole design is very efficient for our operations."
The building's rigid frame design proved beneficial as SES implemented plans for a conveyor that would be suspended from the rafters and run the length of the building. After performing an analysis and determining load requirements, the structural design was easily modified to accommodate the conveyor system.
"Flexibility is key, especially when the building is a 'first of its kind' for this industry," said Miller. "We had one design change after the whole plan was in place, to widen our trapeze in the structure that supports the conveyor, and the tension fabric contractor was able to make that change without any problem. The conveyor system fits and operates just as it was designed."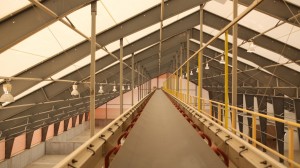 The building's 509-g/m2 fire-rated polyethylene roof panels are made in individual 6 m (20 ft) bays and are attached to every frame using a keder attachment system. This tensions the fabric both horizontally and vertically to enhance its longevity. The roof's translucency also allows abundant daylight to permeate the structure.
"In far northern Alberta in the summer, the sun stays high for long periods of time, so we take full advantage of any light we can get," said Miller. "We believe naturally lit areas are good for worker morale, since they feel more connected to the outside environment. And, of course, it also saves on our facility operating cost, since the fabric allows us to work with the internal lighting systems off, even on cloudy days."
The Wembley facility officially opened on schedule in June, despite a rough Canadian winter that set the SES concrete contractor behind more than a month on installing the building's foundation.
"The tension fabric building contractor knew our schedule and saved us over 30 days of downtime," said Miller. "It stood the frames for the entire structure in a single day, and everything—conveyors, electrical, fabric—was completed within five weeks of them coming to the site. It was a Herculean effort on the contractor's part. It was fantastic."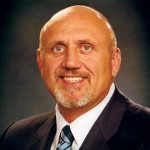 [4]Jim Kumpula is the Canadian general manager of Legacy Building Solutions, a designer, manufacturer, and installer of tension fabric buildings. He can be reached via e-mail at jkumpula@legacybuildingsolutions.com[5].
Endnotes:
[Image]: http://www.constructioncanada.net/wp-content/uploads/2014/12/Legacy_SES_3.jpg
[Image]: http://www.constructioncanada.net/wp-content/uploads/2014/12/Legacy_SES_1.jpg
[Image]: http://www.constructioncanada.net/wp-content/uploads/2014/12/Legacy_SES_2.jpg
[Image]: http://www.constructioncanada.net/wp-content/uploads/2014/12/Jim_Kumpula.jpg
jkumpula@legacybuildingsolutions.com: mailto:jkumpula@legacybuildingsolutions.com
Source URL: https://www.constructioncanada.net/fracking-sand-facility-built-to-another-level/
---