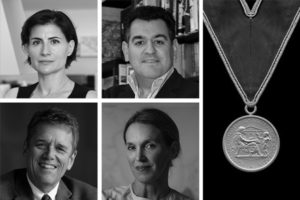 Four professionals who have significantly impacted the architectural practice around the world have been named Honorary Fellows of the Royal Architectural Institute of Canada (RAIC).
The 2021 Honorary Fellows exemplify the tremendous impact architects have—not only on the built environment—but public life and the world around them, RAIC said in a press release.
Amale Andraos is the dean of the Columbia University Graduate School of Architecture, Planning, and Preservation. Andraos is committed to design research, and her writings focus on climate change and its impact on architecture—as well as on the question of representation in the age of global practice.
Tatiana Bilbao began her eponymous studio in 2004 with the aim of integrating social values, collaboration, and sensitive design approaches to architectural work. Prior to founding her firm, Bilbao was an advisor in the Ministry of Development and Housing in Mexico City. During this period, she was part of the General Development Directorate of the Advisory Council for Urban Development in the city.
Mouzhan Majidi joined Zaha Hadid Architects in 2015 following a distinguished 27-year career with Foster + Partners.
Elevated by the American Institute of Architects (AIA) to its College of Fellows in 2021, his designs, leadership, and passion for diversity have made a difference in the profession. He achieved this through establishing new benchmarks in design innovation, user experience, and sustainability that enhance the quality of life for more than 500 million people globally.
Thomas Vonier is president of the International Union of Architects (UIA), the only world organization of architects, and the immediate past president of AIA. Vonier has worked globally on the challenges of urbanization, conflict resolution, urban insecurity, and changing climate patterns. He participated in Conference of the Parties (COP)21 (Paris) and COP 22 (Marrakesh), as well as in Habitat III (Quito). Vonier makes regular appearances on built environment issues in broadcast media and at international conferences.
"We are pleased to recognize the exemplary achievements of our 2021 Honorary Fellows who have demonstrated excellence in our profession and the built environment through their work, advocacy, and commitments to the advancement of the profession," reads a statement from the Officers of the Colleges of Fellows.
"It is with deepest thanks that I accept my nomination to join the College of Fellows of the Royal Architectural Institute of Canada," said Andraos. "This recognition is a great honour for which I am profoundly grateful, just as I will always be grateful for the creativity and generosity of spirit I learned throughout my architectural education in Canada, which shaped my belief in architecture's potential to address issues like climate and equity in the built environment."
Added Bilbao, "I feel very honoured and grateful for this award, thank you so much to the Royal Architectural Institute of Canada for this recognition. Architecture should benefit every single human being on this planet."