Foster + Partners and Zaha Hadid Architects withdraw from Architects Declare
December 14, 2020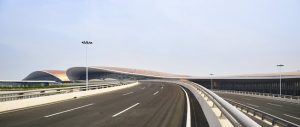 Foster + Partners[2] and Zaha Hadid Architects[3] (ZHA) have left Architects Declare[4], a network of architecture practices seeking to raise awareness about climate change and loss of biodiversity.
As per Dezeen[5], the decision to exit Architects Declare was made after signatories, such as Foster + Partners and ZHA, were criticized for designing airports and for being involved in the aviation sector. Last week, Architects Declare told Dezeen that high-profile architects are "clearly contravening" climate pledges.
"Foster + Partners has withdrawn from Architects Declare because, since our founding in 1967, we have pioneered a green agenda and believe that aviation, like any other sector, needs the most sustainable infrastructure to fulfil its purpose," said Norman Foster, studio founder, in a statement issued to Dezeen.
"Agriculture and aviation are not going to go away and they will both need the most sustainable buildings to serve them together with the architects who can most responsibly design them," the statement said.
Architects Declare released a statement on Foster + Partners saying, "We are disappointed that Foster + Partners have chosen to withdraw from the declarations and we would welcome a conversation with them on the points raised. We recognize that addressing the climate and biodiversity emergencies challenges current practice and business models for us all, not least around the expansion of aviation. We believe that what is needed is system change and that can only come about through collective action. Architects Declare is not a 'protest' movement but a collaborative support network to innovate positive transformation. Our movement is global."
ZHA exited the group asserting that Architects Declare is "setting the profession up for failure."
"Architects Declare's steering group has unilaterally decided on its own precise and absolute interpretation of the coalition's commitments," ZHA said in a statement to Architects' Journal[6]. "By doing so, we believe they are setting the profession up for failure. Redefining these commitments without engagement undermines the coalition and trust. We saw Architects Declare as a broad Church to raise consciousness on the issues; enabling architectural practices of all sizes to build a coalition for change and help each other find solutions. We need to be progressive, but we see no advantage in positioning the profession to fail. In fact, it would be a historic mistake."
In response, Architects Declare said, "…Patrik Schumacher of ZHA (a signature practice to Architects Declare) had asserted that 'we need to allow prosperity and progress to continue and that will also bring the resources to overcome [the climate crisis] through investment in science and new technologies. That must be built on continuous growth.' He also warned against 'those voices who are too quick to demand radical changes.' We believe these statements are fundamentally in conflict with the Architects Declare commitment to 'advocate for faster change in our industry towards regenerative practices.' We also believe these statements are scientifically flawed and decades out of date in terms of informed intellectual thought." Click here[7] to read the full statement.
Endnotes:
[Image]: https://www.constructionspecifier.com/wp-content/uploads/2020/12/Opener-2.jpg
Foster + Partners: https://www.fosterandpartners.com/
Zaha Hadid Architects: https://www.zaha-hadid.com/
Architects Declare: https://www.architectsdeclare.com/
Dezeen: https://www.dezeen.com/
Architects' Journal: https://www.architectsjournal.co.uk/
here: https://www.architectsdeclare.com/news
Source URL: https://www.constructioncanada.net/foster-partners-and-zaha-hadid-architects-withdraw-from-architects-declare/
---