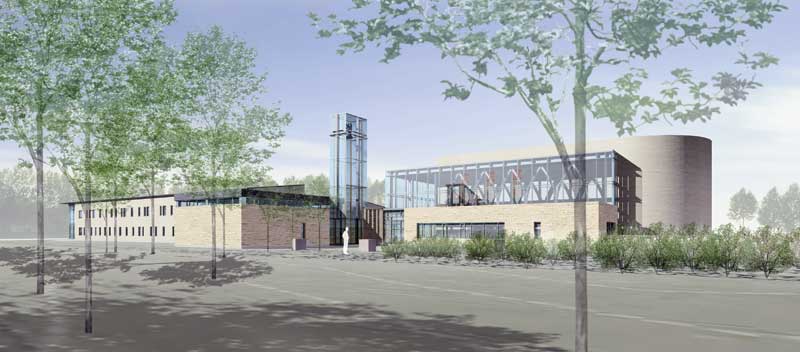 Specially designed concrete formwork elements and distinctive architectural details were specified to allow a new chapel to grace Edmonton's St. Joseph Seminary.
The chapel, designed by architectural firm, Cohos Evamy, was required due to a need for more space. It includes distinguishing architectural aspects—most on the inside—such as:
• 
a 11-m (36-ft) high curved wall;
• 
6-m (19.7-ft) high windows;
• 
recesses for Stations-of-the-Cross figures on two straight walls;
• 
textured concrete;
• 
rustification strips; and
• 
a 2-m (6.6-ft) thick header beam over the doorway.
The header beam extends more than 11 m (36 ft) across at 9 m (29.5 ft) from the ground.
To meet the requirements of the architecture, special formwork elements were custom-designed. This was influenced by several factors, including:
• 
high concrete pressure (80 kN/m2 [1670 psf]);
• 
tie-holes and panel sizes; and
• 
five-tonne, 11-m (36-ft) high formwork panels that had to be precisely positioned and plumbed to pour the wall without breaks.
A steel load-bearing tower was used to support the header beam panels 9 m (29.5 ft) from the ground, which tied into the corner panels and bulkheads so vertical pour breaks did not occur. 
Steel channels were designed to lift and position panels due to the high bending loads and panel weights. A separate curb slab was also poured so the 11-m (36-ft) high panels could be plumbed and levelled with ease.
Nevertheless, difficulties occurred as there was a challenging design aspect involved—the curved walls had architectural reveals and tie-holes. To ensure proper construction, curved panels were built by securing shaping timber—cut from plywood—to them. This achieved the proper curve and panel dimension required. Adjoining panels were placed together using custom-design steel connecting plates with the exact angle and laser-cut holes to allow for them to connect seamlessly and have a continuous curve from panel to panel.
Beams were placed close together due to the high concrete pressure, and the outer layer of plywood was screwed from the back of the form to prevent any unwanted impressions in the concrete, therefore requiring two layers of plywood. The architectural walls were then poured with a special mix of coloured concrete.
The construction commenced in May 2009, and should be finished this spring. The chapel's concrete work is complete, and builders are currently working on the project's interior aspects.
Although the new chapel will serve as a place for seminarians to learn about and practice their faith, it is not St. Joseph's first addition. In 1894, the building began as a rectory, then added a chapel to increase its size. In the late 1950s, improvements were made due to growing vocations and more prosperous times. However, the building was not finished growing—more was added in 1997 when a new library and residential facility opened.

Control the content you see on ConstructionCanada.net!
Learn More.