Five ways of protecting mid-rise bones with gypsum board
by Katie Daniel | September 18, 2015 10:35 am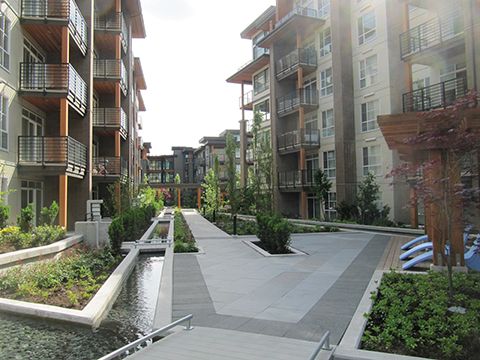 By Bob Marshall, P.Eng., BDS, LEED AP, and Brent Belanger, CTR
Mid-rise construction has taken hold as cities across Canada seek new ways to accommodate growth in urban populations. Recent provincial and municipal codes and pending national code changes are allowing a more affordable path for mid-rise construction. Specifically, codes are innovating fire-protected wood frames (timber) for five- and six-storey buildings.
British Columbia was the first province to allow this, followed by Québec, Ontario, and the City of Calgary. It is widely anticipated the 2015 National Building Code (NBC) of Canada will allow wood-frame construction for mid-rise buildings up to six storeys.
The authorization of wood-built mid-rise structures is a boon for specifiers in search of sustainable materials that fit the budgetary constraints of their clients. From a cost perspective, wood-frame construction is a significantly more economical alternative to poured concrete for mid-rise buildings. The "Unlocking the Potential for Mid-Rise Buildings: Six-Storey Wood Structures" report, commissioned by the Building Industry and Land Development Association (BILD), and authored by the former City of Toronto chief planner, estimates wood can bring a cost savings of about $300 to $400 per square metre ($30 to $40/sf), or up to 20 per cent over steel and concrete. It estimates approximately $20,000 to $25,000 can be saved on a 92-m2 (1000-sf) building. As a result, mid-rise construction in desirable, often pricey neighbourhoods is a more affordable prospect for property owners, developers, and home-buyers. Over 250 mid-rise projects have been completed in British Columbia since 2009 when the province first began allowing wood-frame construction for six-storey structures. The same report estimates mid-rise buildings could house up to 100,000 people in the Greater Toronto Area (GTA) in the future.
The key to these new and pending building codes, of course, is a wood-framed mid-rise is only as good as the materials surrounding it. To keep a wood-built structure's bones strong, it is essential architects specify 'smarter' skins during the design phase of all projects. The smarter the skin, the higher the quality and the stronger the bones, which enhances safety, indoor environmental quality, and durability for the long term.
Gypsum board, a mostly natural material, can be a suitable element for meeting new mid-rise building codes. It is popular for mid-rise wood-framed buildings in particular, because it can help protect wood from both moisture and fire. Currently, gypsum board is the most specified product for exterior sheathing and interior finished surfaces in Canada, making the country among the highest per capita users of gypsum in the world. It has a strong history in Canada's residential and commercial construction practices, and is now being looked to for protection of the frames of new mid-rise buildings, thanks in part to recent innovations and new technologies.
Gypsum at its core
Gypsum is an abundant and locally sourced material in North America. It is found in sedimentary rock formations in a crystalline form that is known as calcium sulfate dihydrate (CaSO4 2H20). About 45 kg (100 lb) of gypsum rock contains about 9.5 L (10 qt) of chemically combined water.
Gypsum is first mined or quarried, and then trucked to a manufacturing facility. Once at the plant, the mineral is ground into a fine powder and heated to remove 75 per cent of its water in a process called calcining. The calcined gypsum (CaSO4 ½H20) is used as the base for gypsum board and related products. It is mixed with water and additives to form slurry, which is fed between continuous layers of paper on a board machine. As the board moves down the conveyer line, the calcium sulfate recrystallizes, chemically combining with the water removed during calcination to revert to its original rock state. The paper becomes bonded to the core. The board is then cut to length and moved through dryers to remove any free moisture.
Gypsum board is most often faced with paper or fibreglass mats. Whether specified for use as an exterior sheathing or interior drywall, gypsum board is a popular choice in mid-rise buildings due to its water-resistance, air barrier tightness, air-cleaning, acoustical, and fire-resistant properties, as explored later in this article.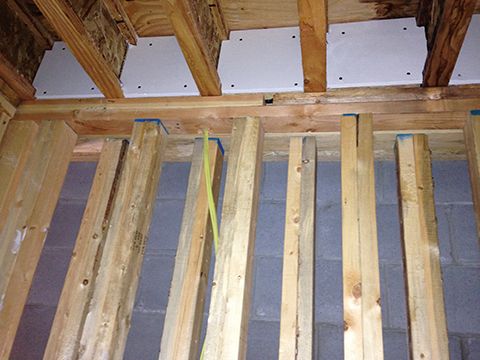 Water-resistant barrier for moisture protection
Key building code objectives are put in place to protect occupants from precipitation and prevent water penetration from the exterior through the building's envelope. As the use of wood framing in mid-rise developments increases, water protection is of greater importance. After all, wood is susceptible to mould and rot. A properly designed water protection skin is an architect's best defense against moisture. This is typically done with rainscreen cladding over a water-resistive barrier (WRB).
Typically, moisture problems occur because of moisture-sensitive materials and components. However, gypsum manufacturers have developed technologies to address the need for mould and water resistance. Glass-mat-reinforced gypsum board offers a mould and WRB face. High-performance exterior glass reinforced gypsum sheathings can achieve a mould resistance rating of 10—the highest possible rating—according to ASTM D3273, Standard Test Method for Resistance to Growth of Mould on the Surface of Interior Coatings in an Environmental Chamber.
Fibreglass mats used in lieu of traditional face and back paper are the highest-performance gypsum boards on the market. These durable boards are reinforced glass mats, fully embedded into a water-resistant gypsum core positioned beneath a paperless polymer-modified gypsum surface, and a protective acrylic coating on the exterior face. These best-case-scenario boards also handle like standard gypsum board and come with an exposure warranty—typically between six and 12 months, depending on the product and manufacturer. This guarantees the board will experience no loss of performance due to ultraviolet exposure or exposure to the elements. The glass-mat-reinforced gypsum can also be covered with a WRB complying with CAN/ULC-S741, Standard for Air Barrier Materials, and CAN/ULC-S742, Standard for Air Barrier Assemblies compliant WRB for a smarter skin that protects against moisture ingress and helps prevent moisture build-up in exterior walls.
Air barrier system
According to the National Research Council of Canada (NRC), about 100 times more moisture enters a building by way of air leakage than by vapour diffusion. As such, gypsum board's airtightness makes it a suitable material for air barrier systems. Code-compliant mid- and high-rise buildings require high-performance wall assemblies that are continuous, airtight, and constructible. Recently, the American Society of Heating, Refrigerating, and Air-Conditioning Engineers (ASHRAE) reported[3] the best-performing air leakage system was sealed (including taped joints) exterior gypsum board. Ensuring joints and penetrations of the installed gypsum sheathing are installed with compatible code-compliant air barrier sealants and membrane materials will help maintain the durability of the air barrier system.
Specifiers should also seek out gypsum sheathing that will meet the manufacturing requirements and specifications of ASTM C1177, Standard Specification for Glass Mat Gypsum Substrate For Use as Sheathing. These boards are appropriate substrates in architecturally specified exterior insulation and finish systems (EIFS). Such compliant gypsum sheathing boards are designed for attachment to the outside of an exterior wall framing with the intent to control the infiltration of weather elements. They can be used in wood-frame as well as steel-stud commercial construction. Importantly, these gypsum materials have a uniform hardness across the entire board that assists in the prevention of screws from penetrating the fully embedded glass mats, creating less opportunity for moisture and air intrusion.
Indoor air quality
Indoor air quality (IAQ) is another top-of-mind consideration in the specification of any material. Currently, a few Canadian-appointed experts are participating in a joint International Organization for Standardization (ISO) working group on energy performance of buildings using a holistic approach to develop a new 52000 series of ISO standards—there have been 13 published. There is a draft standard[4], "Energy Performance of Buildings—Indoor Environmental Quality—Part 1: Indoor Environmental Input Parameters for the Design and Assessment of Energy Performance of Buildings," for indoor environmental design and assessment of energy performance of buildings that includes the panels (wall) that clean the air. It is anticipated these standards, as well as the National Building Code (NBC), will adapt these health-related standards in the coming months to include low-polluting buildings for the well-being of people. In the meantime, architects and specifiers working on hospitals, schools, and other landmark buildings where healthy indoor environments are paramount can take advantage of world class ISO standards.
Gypsum board is a naturally derived building material. It is non-polluting to indoor environments, and can be certified by GREENGUARD for low chemical emissions per UL 2818, Certification Program for Chemical Emissions for Building Materials, Finishes, and Furnishings.
Further, innovative formaldehyde-absorbing gypsum board has been engineered to actively clean indoor air by absorbing circulating formaldehyde and converting it to inert compounds. This material has been measured for permanent formaldehyde absorption capacity of 0.4/m2 of surface area and has been tested to ISO 16000-23, Performance Test for Evaluating the Reduction of Formaldehyde Concentrations by Sorptive Building Materials, and validated by ULE through their Environmental Claims Validations program. This interior air-cleaning passive technology reduces the need for relying on mechanical ventilation systems to clean VOCs, and hence the energy required for a mechanical system to function.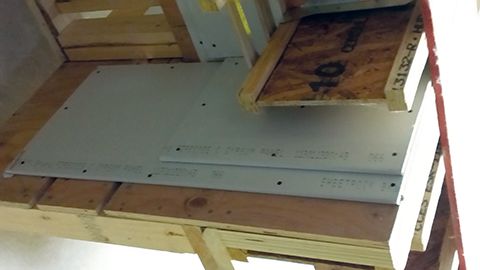 Passive fire-resistance
In North America, gypsum board is the most commonly used interior finish where fire resistance classifications are required. This is because the material is naturally fire resistant and provides passive fire safety, which bodes well for wood framing.
During the manufacturing process when raw gypsum is turned into gypsum board products, the chemically combined water contributes to its effectiveness as a fire barrier. When structural members protected by gypsum board are exposed to fire, the water is slowly released as steam, slowing heat transmission and acting as a fire barrier until most of the chemically combined water is eliminated. The temperature directly behind the plane of calcination is only slightly higher than boiling water or 100 C (212 F), which is below the temperature when lumber ignites or steel begins to lose its strength. Once the gypsum is completely calcined the residue acts as an insulating barrier to the flames.
Tests conducted in accordance with CAN/ULC S102, Standard Test Method for Surface Burning Characteristics of Building Materials, further show gypsum board has a low flame-spread index and a low smoke-density index. When installed in combination with other materials in laboratory-tested wall and ceiling assemblies, gypsum board helps protect building elements from fire for prescribed periods.
There are two basic classifications of gypsum board core formulations that lend different degrees of fire resistance. These are Standard and Type X gypsum board. Fire-rated drywall referred to as Type X must be third-party certified by an independent testing and listing agency such as ULC to meet the fire performance requirement prescribed in Canadian Standards Association (CSA) A82.27, Standard Specification for Gypsum Board. Type X fire-rated gypsum drywall is 16 mm (5/8 in.) thick and installed on each side of nominal 38 by 89 mm (1½ x 3½ in.) wood studs spaced 400 mm (16 in.) on centre (o.c.) or 610-mm (24-in.) o.c. spaced steel studs. This has a minimum fire rating for the assembly of one hour, which is a typical requirement for many building codes. The Type X Shaftliner is 25 mm (1 in.) thick and is used in special shaftwall and area separation firewall assemblies.
A third classification is Type C or Improved Type X. This gypsum board is similar in composition to Type X, except it has more glass fibre reinforcement and other ingredients in its core that make its fire-resistive properties superior to Type X. Type C boards are available in 12.7 mm (½ in.) and 16 mm (5/8 in.) thicknesses.
Gypsum assemblies have become a common lighter alternative to traditional masonry methods for fire protection, reducing the overall complexity of a construction project. Additional scaffolding, formwork, and specialty trades are often required for masonry and may not be specified on other projects. Gypsum fire separation system installation is often co-ordinated through the drywall contractor.
Acoustics
The acoustical benefits that come with gypsum materials should not be overlooked. Preventing the transfer of unwanted sound between rooms is a priority in any construction project, though to different degrees depending on how the space will be used. Gypsum board, as well as gypsum ceilings, are effective sound transmission controllers. Some gypsum board and ceiling products are made specifically for heightened acoustical performance. Wallboard assemblies with a 50 or 55 Sound Transmission Class (STC) are required in residential buildings.
A new Apparent Sound Transmission Classification of ASTC of ≥ 47 in the 2015 Canadian codes addresses flanking acoustic paths.
Conclusion
Gypsum boards are just one part of smarter exterior skins and interior solutions for mid-rise construction, but they are important considerations, nonetheless. The versatility of gypsum helps architects and specifiers address critical design requirements in water resistance, airtightness, IAQ, fire resistance, acoustics, and more. Understanding this is the first step. The next is specifying the right products early in the design phase. After all, one can only build a mid-rise skeleton once.
Bob Marshall has more than 35 years of experience as a specialist in predesign, design, and construction of energy efficient durable building skins for all types of buildings. He has worked on over 50 LEED-projects and is co-author of the LEED Durable Building Credit. Marshall is the building science manager for CertainTeed Saint-Gobain Canada. He has been appointed by the National Research Council (NRC) to the Standing Committee on Energy Efficiency in Buildings. Marshall can be reached via robert.marshall@saint-gobain.com[6].
Brent Belanger, CTR, has almost 30 years of experience with manufacturers in the design/construction industry. He is the architectural services manager for CertainTeed Gypsum & Insulation Canada. Belanger can be reached at brent.belanger@saint-gobain.com[7].
Endnotes:
[Image]: http://www.constructioncanada.net/wp-content/uploads/2015/09/Mid-Rise.More-Affordable.Gypsum-Protected-Buildings.jpg
[Image]: http://www.constructioncanada.net/wp-content/uploads/2015/09/Gypsum-protection-at-flanking-paths.jpg
reported: http://www.rdh.com/wp-content/uploads/2014/10/ASHRAE-2014-Annual-Conference-Building-Enclosure-Airtightness-in-WA-Final.pdf
draft standard: http://www.cres.gr/greenbuilding/PDF/prend/set4/WI_31_Pre-FV_version_prEN_15251_Indoor_Environment.pdf
[Image]: http://www.constructioncanada.net/wp-content/uploads/2015/09/double-layers.jpg
robert.marshall@saint-gobain.com: mailto:robert.marshall@saint-gobain.com
brent.belanger@saint-gobain.com: mailto:brent.belanger@saint-gobain.com
Source URL: https://www.constructioncanada.net/five-ways-of-protecting-mid-rise-bones-with-gypsum-board/
---