Firm designs eclectic reception area for NFB's Montreal HQ
by arslan_ahmed | January 4, 2023 4:23 pm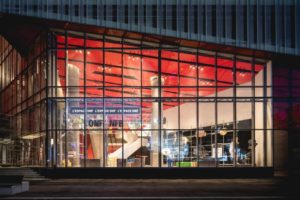 The National Film Board's (NFB's) new headquarters, located inside the flagship building, Ilot Balmoral, features a colourful and eclectic area on the ground floor for the public and film industry professionals to interact, representative of the institution's identity.
The environment offers a third space concept ideal for both professionals and neophytes of the film industry, and which provides a greater understanding of the work being created by the NFB, and an appreciation for its history. Montreal-based Taktik Design was granted the challenging opportunity to imagine and create the project. Given that such a space is unprecedented in the history of the organization, this development is a bold and extensive undertaking regarding its mandate and planning.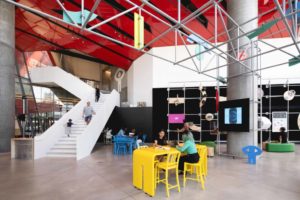 Taktik conceived and developed a colourful, eclectic environment corresponding to the vast artistic spectrum of the organization, while also achieving a welcoming and modular space. The uniquely bold and striking nature of the red ceiling served as the centrepiece in the creation of the colour scheme, as well as in the selection of other materials, colours, and textures for establishing balance in such a grandiose space. Accordingly, the furniture is either primary coloured or set in neutral, bold tones.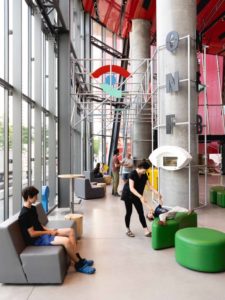 To respect the Leadership in Energy and Environmental Design (LEED) status of the building, the furniture was either carefully selected or locally sourced and made with environmentally friendly, recycled materials. The custom-made furniture, entirely conceived by Taktik Design and built by Montreal-based craftspeople, is a nod to the history and legacy of the NFB. The past is represented by a blue colonial table, drawing reference to traditional Canadian-style furniture. Surrounding it are replicas of the blue and white McLaren chair, made famous in the Oscar-winning film Once Upon a Chair.
The present is illustrated by modular green vinyl seats with a colour emblematic of the original logo of the institution. Depending on the configuration of the seats, either an accurate or a distorted representation of the logo is formed. The future is evoked by a bright yellow table in welded aluminum that reinterprets the NFB's iconic human figure logo using only the leg portion of the design. Simple furniture pieces, including high tables, logs on wheels, and detachable sofas, also enhance the space. The aluminum tube structures allow for the hanging of screens, artifacts, listening stations, and works of art, permitting visitors to discover and fully immerse themselves in the world of the NFB.
Endnotes:
[Image]: https://www.constructioncanada.net/wp-content/uploads/2023/01/AA_NFBDesign_1.jpg
[Image]: https://www.constructioncanada.net/wp-content/uploads/2023/01/AA_NFBDesign_2.jpg
[Image]: https://www.constructioncanada.net/wp-content/uploads/2023/01/AA_NFBDesign_3.jpg
Source URL: https://www.constructioncanada.net/firm-designs-eclectic-reception-area-for-nfbs-montreal-hq/
---