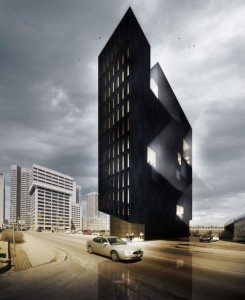 Winnipeg's 5468796 Architecture has been awarded Canada Council for the Arts' $50,000 Professional Prix de Rome in Architecture for its "Table for 12" project.
Administered by the Canada Council for the Arts, the award honours a young architectural firm's achievements. It provides the winner with the ability to travel internationally and learn more about architectural practices in other countries.
In this case, the "Table for 12" project will include trips to eight cities where participants will discuss various types of architecture.
"Our schedule includes places where architecture is well-valued, as well as places where a vibrant architectural culture has begun to emerge in a meaningful way," Johanna Hurme, principal and co-founder of 5468796 Architecture told Construction Canada Online. "Through conversations with key players at each event, our goal is to uncover a wide range of architectural climates and how they shape and generate certain responses—or in turn, how practising architects are able to inform the architectural climate they are operating in."
All offering a different scope on architecture, the cities are:
Mexico City;
New York City;
Lisbon, Portugal;
Eindhoven, Netherlands;
Copenhagen, Denmark;
Tokyo, Japan; and
Sydney, Australia.
The goal of the discussions, or 'tables,' will bring architects, artists, and engineers together to discuss design culture in their cities.
"The project's ambitions are perfectly aligned with the intent of the Professional Prix de Rome and the growing appetite for greater public engagement in cultural development," said Canada Council for the Arts' director and CEO, Robert Sirman.
The project discussions will conclude back in Winnipeg during the Royal Architectural Institute of Canada (RAIC) Festival of Architecture in June 2014.