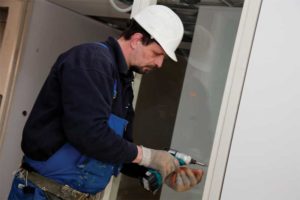 Plan and prepare
While the details around multifunctional protection should be attended to during the design stage, there are numerous areas where installers hold responsibility for the security glazing product's future performance. Proper glazing installation begins with appropriate upfront preparation. Before the glass product arrives onsite, it is critical to properly measure the openings. Window openings that are not square or plumb cannot be appropriately secured, so proper installation begins with appropriate measuring and an inspection of the openings.
This is also an excellent time to become familiar with the project's shop drawings and installation instructions. The shop drawings will include specific details for the project, while the general installation instructions will provide some insight into how to handle most common conditions.
Once products begin to arrive on the jobsite, it is important to check the packing list thoroughly to ensure all the right parts have been received. The supplier should also include in the packing list every part's specific placement. During this step, installers must inspect the material for damage. Superficial chips smaller than 4 mm (158 mils) are acceptable, but glass with wider or deep chips with V-profiles should not be installed. Damage to a product this critical could cause problems down the line. If signs of damage are noted, it is important to call the manufacturer immediately. The manufacturer will be able to inspect the glass to ensure its protective layers have not been compromised in any way and the product is still suitable for installation.
Protect parts onsite
If damage during shipment is cause for concern, then it is clear damage must also be prevented once the product arrives onsite. Proper care must be taken to prevent any damage to either the glass or the frame. This includes keeping materials away from water, mud, or cement/plaster spray, not stacking glazing units horizontally, and protecting the glazing after installation during the course of all future construction activities.
Installation instructions may also advise cleaning the glass prior to glazing. To prevent damage to coatings applied on the exterior surface, it is important to follow the manufacturer's recommendations for cleaning. Generally, one would avoid the use of bristle brushes or other abrasive cleaning materials, and instead opt for a soft cloth or sponge.
Fire-rated and other security glazing products must be handled carefully due to their weight. Security glazing may be made up of multiple, thick glass lites. The glass alone may weigh approximately five to six times more than a standard tempered glass unit. As a result, these products are likely to require specialized equipment for handling. This may include a boom lift or power lift suction cups.
A level installation
Proper preparation lays the groundwork for installation in line with industry standards including ASTM F1233-08 (2019), Standard Test Method for Security Glazing Materials and Systems, and ASTM E2395, Standard Specification for Voluntary Security Performance of Window and Door Assemblies with Glazing Impact, and the National Fire Protection Association (NFPA) 80, Standard for Fire Doors and Other Protective Openings.
For doors and windows, openings must be plumb, true, and level. Installers must ensure any framing is also installed plumb and level. If not level, doors may bind up or fail to open and close or latch properly.
If field adjustments are necessary or hardware is removed for installation, it is important to ensure it is re-installed and adjusted properly. For example, factory-installed glazing beads in windows are often removed during installation. Since these small trim pieces are sized for individual applications, it is important to replace them precisely as they were removed. If an incorrect bead is installed, it could lead to small openings, thereby compromising the frame's integrity.
Appropriate applications
For security film products, appropriate application and installation is critical. These thick polyester or polymeric films are useless unless they completely cover the entire piece of glass/glass ceramic, including the edge that is covered by the glazing stop or glazing bead. Without this critical step, the film might detach or the opening could be compromised in the event of an impact.

Control the content you see on ConstructionCanada.net!
Learn More.