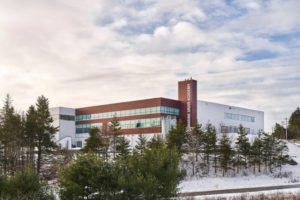 The Marine Drive Academy, designed by architecture firm FBM, serves approximately 270 students from pre-primary through grade 12 and surrounding communities on the province's rural Eastern Shore. It stands as a beacon for the area with the mandate to foster an environment.
The three-storey, 5946-m2 (64,000-sf) school is organized around multiple activity areas. Makerspaces, active living, performance zone, and community learning and library spaces work together to encourage creativity as part of the learning process.
The academy's makerspaces consist of areas for sewing machines, filmmaking tools, and messy activities—all flexible spaces for discovery. The performance zone houses drama and music rooms, and separated practice rooms.
The school also has active living areas including the gym, a fitness studio, a weight room, sports fields, and private youth health space.
Widened corridors create library space since students are constantly exposed to books to make reading a more integral part of their day-to-day. The wider corridors have enabled social distancing during the COVID-19 pandemic. Corridors are bright with daylight from clerestory windows, bringing in more natural light for reading, collaborating, or playing.
Classrooms at the academy are smaller with 72-m2 (765-sf) than the provincial standard. This project understands that learning and recreation are not exclusive and that school can be a natural extension of students' lives in linking to community values.