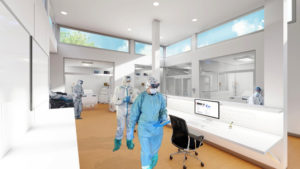 The Solace team, a collaboration between Canadian-based Nucap Industries and Farrow Partners, has created high-performance COVID-19 inpatient bed solutions to enhance health-care capacity.
The innovation embedded in the Solace inpatient bed solution falls into two categories: first, high-performance healing environment innovation and second, materials, method, fabrication, and construction innovation.
The high-performance healing environment innovation is an efficient intensive care unit (ICU) or alternative care unit (ACU) design composed of 12 beds wrapped in close proximity and sightlines of a central medical team care work area. The 12-bed ward is approximately 15 x 30 m (50 x 100 ft) in overall dimensions, and when two units are paired together with a central access corridor, it is approximately 5 m2 (50 sf) for a 24-bed inpatient unit.
The base component of the Solace inpatient bed solution is a state-of-the-art building block. The grip timber cross laminate block (GTCLB) is a construction block similar in performance properties and strength to a concrete block. However, it is lighter, non-brittle to shattering, and made of offcut discarded small pieces of wood bound together mechanically by thin strips of a patented mechanical bonding system.
Also supporting the COVID-19 crisis, staff from WZMH and Camillion Corp, Quasar Consulting Group, Loring Consulting Engineers Inc., Stephenson Engineering Ltd., and Parkin Architects Limited developed concepts for cost- and energy-efficient portable/prefabricated virus testing centres (PVTC).
The testing centres were developed from prefabricated modular units—which are similar to ocean shipping containers but are often used to store construction materials—and can be used for walk-in or drive-thru applications to test for COVID-19 infections.
The first of the units will be completed shorty.