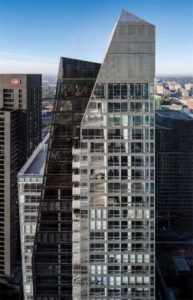 The L'Avenue apartments project in Montréal is one example of how glass was used to achieve superior esthetics in a high-performing building. L'Avenue is a 50-storey residential tower with 304 units on a mixed-use podium including commercial office spaces, retail, café, and a grocery store. The residential amenities are located on the ninth floor, the first tower floor.
L'Avenue is a significant development for the Montréal skyline and the downtown area itself. The structure is the sixth tallest in the city. It features glazed curtain walls in both clear and dark glass, and some apartments with balconies have glass railings. Since glass played a significant part in the building design, it was imperative it was energy efficient as well as attractive.
The materials chosen for this building complement and enhance its formal composition. For the dark component of the tower, a tinted, grey glass with a low-e coating was employed. The glass used for the structure's clear glazing section is, in this author's experience, adept at blocking solar rays. These two types of glass helped achieve the contrast the project team was looking for between the tower's three sculptural shafts.
The energy-efficient clear glass at 6 mm (¼ in.) thickness was used over 32,191 m2 (346,500 sf) of the structure. It is suitable for high-rise buildings as SHGC is only 0.42. It is an effective solar blocker, meaning the apartments will not overheat and cool efficiently in the summer months. This particular coating on the glass brings light into the building, yet is moderately reflective. Esthetically, it has a neutral appearance, enabling a subtler building profile even with all the glass used, and subsequently, compliments the diverse architecture of Montréal.
With the increasing need for buildings to conserve energy while still looking attractive and innovative, the focus on performance becomes more important. Caliman has observed a deeper focus on creating better-performing envelopes using glass.
Jane Walsh, project manager with the City of Toronto, notes the city "is looking forward to working with [building product] manufacturers to learn more about the innovations that are happening with envelope assemblies."
In fact, the city is offering a refund incentive. If the building is certified Tier 2 or above, according to TGS, the city offers a refund of up to 20 per cent of development costs to the owner, who typically receive this amount six months after occupancy.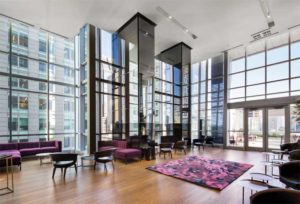 Similar initiatives are in place around the country. In Alberta, the government invested $2 million to improve energy efficiency and conservation programs for the Municipal Climate Change Action Centre (MCCAC), helmed by local authorities. MCCAC offers technical assistance, support, and funding to reduce GHG emissions.
The Better Buildings British Columbia initiative supports and promotes the design and construction of net zero energy ready buildings. It offers incentives to multifamily, commercial, and institutional building developers and owners whose structures are designed to achieve the top tier of the BC Energy Step Code.
Led by SaskEnergy, the Commercial HVAC program supports the use and installation of high-performance, energy-efficient, Energy Star-certified natural gas furnaces, boilers, rooftop units, and infrared radiant heaters in new commercial and retrofit applications.
Just like the TGS program, the Power Smart Commercial Building Envelope Program in Manitoba offers financial incentives to building owners who aim to increase the thermal efficiency of their properties. This can involve improving insulation across the building envelope, installing energy-efficient windows, and utilizing high-performing glazing systems for curtain walls.
In Québec, two significant programs are promoting all-building energy conservation. ÉcoPerformance is designed to reduce consumption of resources and the amount of GHG emissions through funding initiatives actively working to achieve just that. Financial assistance is also available via Novoclimat. It provides builders of newly constructed or renovated private (condominiums or dwelling units) buildings or social housing with funding to increase the structure's energy efficiency.
As cities, provinces, and the federal government work to reduce emissions, the way forward involves a great deal of collaboration from all parties to ensure glass structures are as energy efficient as possible, while still making a significant design statement in their immediate environment.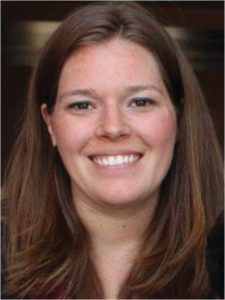 Elizabeth Cotton is product manager, interior and specialty products, AGC Glass North America. She is responsible for managing the North American product portfolio and developing/maintaining the roadmap for interior decorative glass products. Cotton is the vice-chair of the Glass Material Council Marketing Committee for the American Architectural Manufacturers Association (AAMA). Cotton also chairs several task groups to represent glass manufacturers in the United States. She holds a bachelor's degree in mechanical engineering and a master's of business administration from the University of Toledo. Cotton can be reached via e-mail at elizabeth.cotton@us.agc.com.

Control the content you see on ConstructionCanada.net!
Learn More.