Electric lighting burns brighter, but for how long?
by mbuckstein | January 5, 2011 11:09 am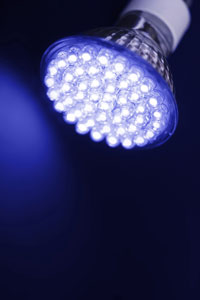 A new study suggests global demand for electric lighting is on the rise, but use of new technologies could eventually reduce costs and sales.
"World Electric Lighting," a December 2010 report published by The Freedonia Group, forecasts product sales will climb 4.5 per cent annually through 2014 to reach $38.5 billion. The Cleveland, Ohio-based research firm says the increase will be driven by not only an acceleration in economic and personal income growth, but also a pickup in construction activity.
However, the study also expects overall electric lighting prices to drop due to cost declines in compact fluorescent lamp (CFL) and solid state technologies like light-emitting diodes (LEDs). In fact, it sees LED price tags as dropping in "double-digit annual rates"—an effect that will slow electric lighting demand in value terms from 2014 to 2019. The perceived slowdown will also be due to use of LEDs and CFLs, as they have longer lifecycles that reduce the need for facility managers and the general public to buy replacement units.
Freedonia believes LEDs will have the fastest market gains of any major product segment through 2014, buoyed by the technology's improved performance capabilities and cost reductions. CFL demand will also expand, due to government-led efforts to phase out use of energy-inefficient incandescent lamps.
In 2004, North American electric lighting demand was at $6.36 billion, rising to $6.75 billion in 2009—an increase of 1.2 per cent. The growth projected between 2009 and 2014 is 2.3 per cent, with the figure predicted to be $7.56 billion. The continent's sales will be outpaced by developing countries, which are poised to benefit from ongoing industrialization, increased manufacturing output, and rising standards of living. The report says China alone will account for 47 per cent of all additional product demand through 2014.
Source URL: https://www.constructioncanada.net/electric-lighting-burns-brighter-but-for-how-long/
---