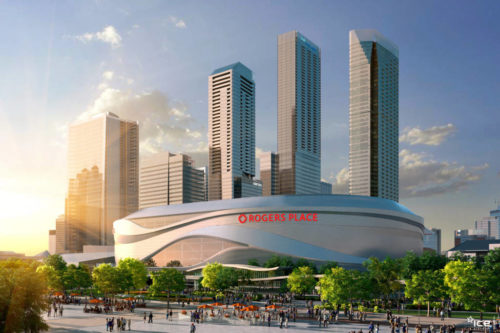 In December, Edmonton's Rogers Place became the first National Hockey League (NHL) facility in Canada to achieve Leadership in Energy and Environmental Design (LEED) Silver certification. Since opening in 2016, the home arena of the Edmonton Oilers has demonstrated efficient systems for lighting, heating, cooling, and ventilation in building design.
"Congratulations to the City of Edmonton and the project team involved in this LEED Silver certification for Rogers Place Arena," says Thomas Mueller, CEO of the Canada Green Building Council (CaGBC). "Designing and building a facility of this magnitude to meet rigorous green building standards is an ambitious undertaking, but one with the potential to have a positive impact on visitors, where they can see sustainability in action. This certification sets a strong example for other large venues in Canada that every building can achieve superior environmental performance."
Edmonton recently introduced a sustainable building policy, mandating new building projects strive for LEED Silver certification as a minimum requirement. All phases of design and construction of Rogers Place and its adjacent facilities were planned with this goal in mind and the arena achieved certification through the LEED goals of developmental density, community connectivity, and alternative transportation.
"The City of Edmonton aims to be a national leader in setting and achieving the highest standards of environmental preservation and sustainability," says Bev Esslinger, city councillor. "This certification not only helps us reach this goal, but positively impacts the health, quality of life, and resiliency of our citizens and city."
The commitment to reduce the arena's environmental impact is also reflective in daily building operations. As a member of the Green Sports Alliance, facility operator Oilers Entertainment Group has embraced environmentally friendly procedures related to cleaning practices, public education, and food waste handling.
"Oilers Entertainment Group is a strong advocate for environmental design and operation," says Susan Darrington, executive vice president, Rogers Place. "We are all so very proud of the accomplishment."
To read more, click here.