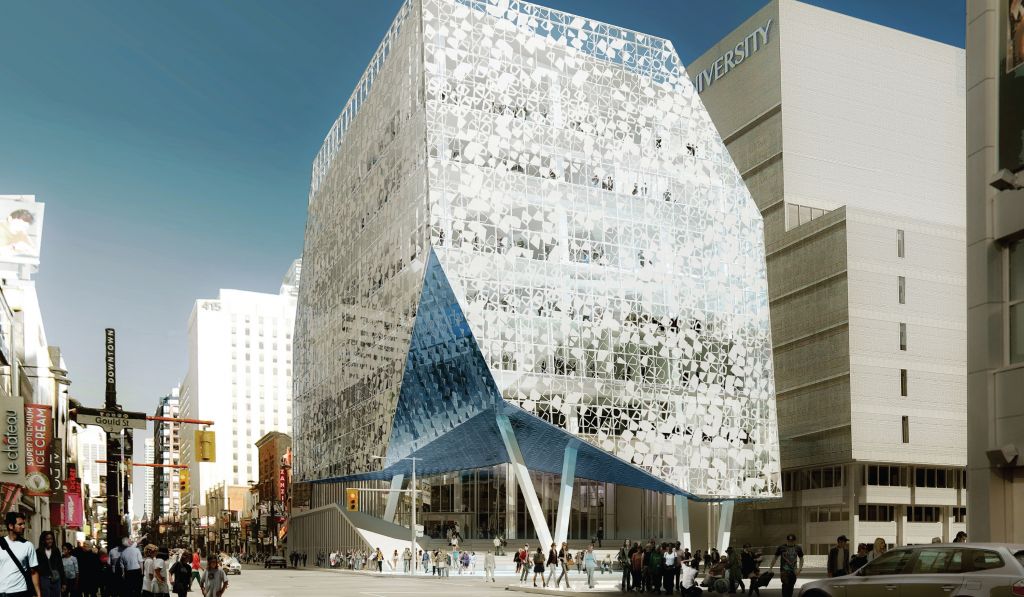 Once the site of the famous Sam the Record Man building, the Toronto intersection of Yonge and Gould Streets will soon be home to Ryerson University's Student Learning Centre.
Designed in collaboration between Toronto-based Zeidler Partnership Architects and Snøhetta of Oslo, Norway, the 14,443-m2 (155,463-sf) building will draw students and visitors in with bright, open, barrier-free spaces for individual and group studying.
Of the eight floors, each will have its own 'personality,' driven by the program and unique spatial and experiential opportunities located there. The top floor, for example, will encourage independent, quiet study.
The building will contain a bridge to the existing library, and lighting and acoustical strategies will vary between floors, according to the space's use. A system of exposed concrete dropped beams and slabs will allow for greater spans and fewer columns inside.
The building's transparent glass skin will contain a frit pattern to emphasize its delicate nature and to create varying lighting qualities within the interior.
"The notion that learning is a static, solitary activity is outmoded," said Craig Dykers, principal architect and co-founder of Snøhetta. "While it remains important to find places of introspection, it is also vitally important to create places where people can more actively seek knowledge, where social connections can intertwine, and where all forms of activity, quiet and loud, can find a suitable home. The design of the Student Learning Centre is foremost about providing these new and diverse functions."
The facility is targeting Silver under the Leadership in Energy and Environmental Design (LEED) program; at least 50 per cent of the roof will be a green roof. Construction will begin later this year, with the centre set to open in winter of 2014.