Download our new e-book on waterproofing
March 9, 2021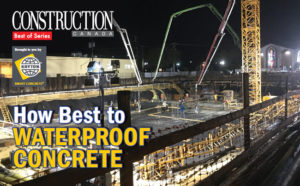 Construction Canada has announced the newest volume in its series of free, downloadable digital supplements—a technical exploration on waterproofing concrete.
The magazine's latest e-book focuses on the various factors design professionals need to consider when waterproofing concrete on building projects.
The curated collection of articles also explores proper waterproofing of construction joints and the vital role it plays in fortifying below-grade concrete structures.
It also examines how crystalline waterproofing technology improves the durability of concrete by filling and plugging pores, capillaries, and micro-cracks with a non-soluble, highly resistant crystalline formation.
This Construction Canada e-book on waterproofing concrete illustrates that a functional waterproofing system is the front line of defense for any structure subjected to vehicle use and de-icing salts. Selecting the right waterproofing system is a challenge unique to the structure.
Download the "How Best to Waterproof Concrete" in two different formats—PDF or digital edition—by visiting www.constructioncanada.net/ebook/kryton-how-best-to-waterproof-concrete-e-book[2].
Endnotes:
[Image]: https://www.constructioncanada.net/wp-content/uploads/2021/03/Opener-6.jpg
www.constructioncanada.net/ebook/kryton-how-best-to-waterproof-concrete-e-book: http://www.constructioncanada.net/ebook/kryton-how-best-to-waterproof-concrete-e-book
Source URL: https://www.constructioncanada.net/download-our-new-e-book-on-waterproofing/
---