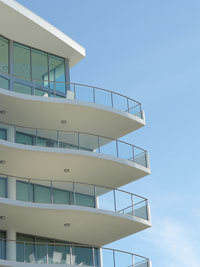 Revised regulations for glass balconies in Ontario will apply to new construction, but not existing buildings. By only including developments approved after July 2012 in the province's building code amendments, some feel public safety will be at risk.
In Toronto alone, 30 tempered glass balconies from more than 10 buildings have shattered since last summer, causing the city to turn to a panel of experts to advise on building code changes.
However, Toronto's chief building officer, Ann Borooah, explained any orders for inspections or upgrades can only be issued after glass breaks in a building. Therefore, the city is compiling a database of all structures with glass balconies constructed within the last five to seven years and will then ask facility owners to conduct voluntary inspections.
Bob Marshall, P.Eng., BDS, LEED AP, an engineer with Cedaridge Services and a frequent contributor to Construction Canada, said this does not go far enough.
"New York and Chicago have building façade ordinances that require regular reviews by professionals of the cladding on all existing large buildings to confirm safety and address any hazards," he told Construction Canada Online. "I have been completing annual façade reviews of several buildings in the Toronto area for large corporate clients to reduce their risks, but reviews need to be mandatory for all. The public won't know which buildings are being reviewed and should not have to walk around with hard hats for their protection."
Marshall, who has investigated failure cases in Dubai and in the United States, pointed out the falling glass is not an Ontario-specific situation. He said a combination of booming construction, poor-quality materials, and installation are to blame.
Some of the changes to the Ontario Building Code (OBC) include the required use of heat-soaked tempered glass or heat-strengthened laminated glass, depending on the building's design. The province has asked the Canadian Standards Association (CSA) to develop national regulations for glass balconies, which Ontario can then permanently adapt into its code.
Marshall said the guidelines need to be thought about in wider terms.
"Canada must consider international standards as glass issues are global and there are many suppliers outside of Canada," he explained. "The city, province, and other agencies/interest groups need to request a new work item proposal [NWIP] from the Standards Council of Canada [SCC] for existing glass to review and/or develop a standard for adoption in our provincial codes."
"The National Research Council [NRC] needs to co-ordinate a Canadian solution and the adoption of appropriate standards in the National Building Code of Canada [NBC] on an emergency basis."