Developing a state-of-the-art home for CBC in Montréal
by nithya_caleb | January 29, 2019 2:36 pm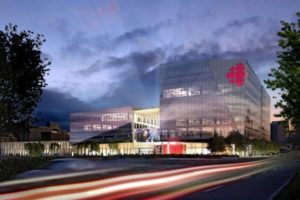 Broccolini Construction[2] is developing a new, high-tech Maison de Radio-Canada building in Montréal to house the Canadian Broadcasting Corporation (CBC)/Radio-Canada. Through a long-term lease, the new building will help meet the needs of CBC/Radio-Canada[3] in today's digital and media environment.
"The new Maison de Radio-Canada will not only be esthetically pleasing, but also improve the future of broadcasting in Montréal with the largest broadcasting datacenter in Canada including benefits such as more predictable operating costs" said Roger Plamondon, president, real estate development and acquisitions, Broccolini.
The 38,833-m2 (418,000-sf) headquarters is expected to improve collaboration, innovation, productivity, and safety with new critical equipment, systems, and infrastructure. It will also feature green spaces and rooftops along with water and energy management.
Johnson Controls is supplying technological solutions, such as card access, video management and air handling units. It will also provide life-cycle services to the CBC/Radio-Canada for a guaranteed fixed cost for the next 30 years.
Construction on the project is set to be completed late this year, with a move-in date of early 2020.
Endnotes:
[Image]: https://www.constructioncanada.net/wp-content/uploads/2019/01/CBC.jpg
Broccolini Construction: https://www.broccolini.com/
CBC/Radio-Canada: http://www.cbc.radio-canada.ca/
Source URL: https://www.constructioncanada.net/developing-a-state-of-the-art-home-for-cbc-in-montreal/
---