Designing outside the fire-rated glass box
by Elaina Adams | January 1, 2012 3:42 pm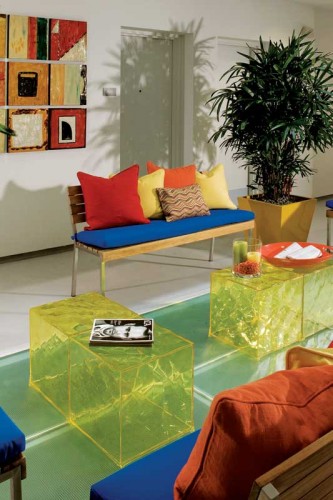 By Ron Pitts
When using the Whole Building Design Guide (WBDG) approach espoused by the U.S. National Institute of Building Sciences (NIBS), team members pool together their knowledge instead of parcelling it out to specialists who work in isolation from one another. Such integration allows building teams to more efficiently evaluate and manage the design for cost, quality-of-life, and long-term performance (among other factors) from technical planning throughout construction.
According to the WBDG, this "provides the strategies to achieve a true high-performance building: one that is cost-effective over its entire lifecycle, safe, secure, accessible, flexible, esthetic, productive and sustainable." (See Don Prowler and Stephanie Vierra's "The Role of Buildings and The Case for Whole Building Design," available at www.wbdg.org/wbdg_approach.php[2]).  On a smaller scale, it provides an analogy for fire-rated glass systems.
Like holistically designed buildings, fire-rated glass and frames designed to work together as a cohesive unit can achieve a higher performance level. From enhancing functionality and esthetics to providing high levels of fire and life safety, the benefits of today's sleek, fire-rated frames and clear, fire-rated glass are further realized in system solutions.
Esthetic benefits
With new combinations of fire-rated glass and frames, it is possible for building teams to meet code requirements without sacrificing esthetics.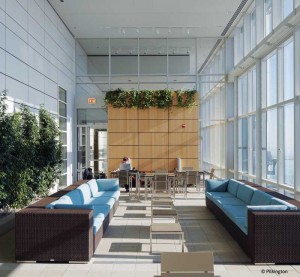 Greater design flexibility
A primary way fire-rated glass systems contribute to building design is by expanding the range of options available to architects, specifiers, and other building professionals. The emergence of integrated product combinations has made it possible for building teams to meet fire ratings and have large expanses of glass, instead of being limited to smaller windows, borrowed lites, and small view panes in doors. (For more on this, see "Fire-rated Glazing Evolution.")
Today, building teams can select from numerous fire-rated glazing system options such as:
door assemblies;
transparent glass walls;
curtain walls;
silicone-glazed curtain walls; and
glass floors and roofs.
Many fire-rated glass systems are available for interior and exterior use. For the former, common applications include:
corridor walls and windows;
doors;
stairwells;
glazed elevator cores;
interior separations in lobbies and central gathering areas;
atriums; and
glazed floors and ceilings.
Exterior applications include:
curtain walls and doors where shallow lot lines necessitate blocking a fire's spread to adjacent buildings;
storefronts;
skylights; and
ceilings that double as a walking surface.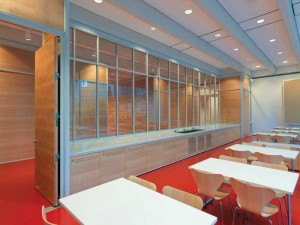 Consistency with other building elements
Modern fire-rated glass systems overcome a key design challenge—maintaining visual consistency between fire-rated and non-fire-rated materials. Previously, fire-rated glazing tended to have much thicker frames and glass to provide the necessary fire protection, creating esthetic discrepancies with neighbouring curtain walls, windows, and doors. Advanced fire-rated glass systems, however, use new fire-rated steel frames that can improve sightlines and views, and feature well-defined corners and crisp edges for smooth integration with surrounding applications.
Taking integration one step further, some manufacturers are now offering silicone-glazed (SG) fire-rated curtain walls (see "The New Generation of Fire-rated Glass," page 20). Such systems feature silicone-sealed glass that offers a smooth, frame-free exterior surface, visually tying in with neighbouring structural silicone-glazed curtain wall systems.
When it comes to fire-rated frame appearance, the reality is building teams can achieve nearly any look to complement non-fire-rated frames. These can be custom-painted or powder-coated to match virtually any colour scheme. There are even authentic hardwood, fire-rated framing options, as well as products with the look of stainless steel.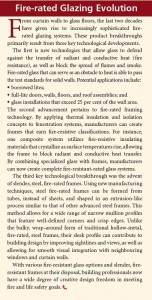 [5]Increased sizes
No longer limited to sequences of borrowed lites and separate transparent fire-rated wall panels, building teams can use fire-rated glass systems to create large glazed areas that extend from floor to ceiling, wall to wall, and across multiple storeys. The flexibility to incorporate extensive glazing that also meets fire-rating requirements provides many benefits.
One advantage of fire-rated glass systems' versatility and size is the ability to help building teams meet daylighting goals. For example, the Canada Green Building Council's (CaGBC's) Leadership in Energy and Environmental Design (LEED) building rating system offers points toward Indoor Environmental Quality (EQ) Credits 8.1 and 8.2, Daylight and Views, when the building team provides occupants with access to natural light within 75 per cent of regularly occupied spaces, and views to outdoor environments within 90 per cent of all regularly occupied areas. Since the line of sight may be drawn through interior glazing, including private offices, classrooms, and other multi-occupant spaces, installing fire-rated curtain walls can help building teams earn points in this category.
Additionally, project teams can incorporate fire-rated glass wall panels throughout school corridors, where illumination and views to the outside can improve working environments for students. Or, they can use fire-rated glass floors to maximize daylight penetration between building levels, allowing light to transfer down into a building's core.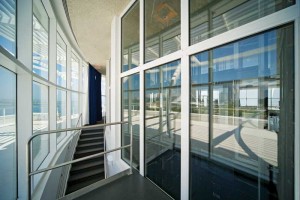 Performance benefits
While fire-rated glass systems can advance esthetics, they also help improve fire and life safety. By incorporating fire-resistant glazing—such as glass with intumescent interlayers that turn to foam when exposed to heat—curtain wall, wall, floor, and door systems can block flames, smoke, and heat for up to 120 minutes.
The ability to provide fire resistance in many different glazing applications is critical given today's open building designs. Large interior spaces, such as those created by a multi-storey atrium, present an opportunity for faster fire growth given the greater air volumes. According to the U.S. National Association of State Fire Marshals (NASFM), this design can create "a lack of compartmentation that would serve to limit fire spread to a smaller area, such as a room or a wing or a floor of a building." (See Jim Tidwell and Jack Murphy's "Bridging the Gap: Fire Safety and Green Buildings" (National Association of State Fire Marshals, 2010). The report is available at greenbuildingfiresafety.org/PDF/NASFM_greenfire_guide.pdf[7]). In comparison, fire-rated glass systems that span across floors or stretch across multiple storeys can provide the feel of an open, light-filled space, while helping reduce the area's overall volume.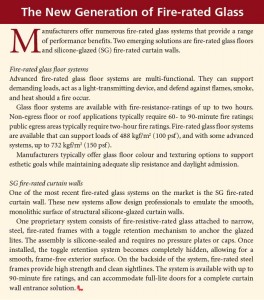 [8]Another benefit of using fire-rated glass systems, instead of specifying individual components, is the assurance that the assembly meets code requirements. To ensure adequate protection, a given fire-rated glass assembly—from the frame to the glass, seals, and other components—must provide the same type of fire protection (i.e. 'fire protection' to defend against flames and smoke or 'fire resistance' to also defend against heat) and carry the minimum fire rating as dictated by code. Given myriad fire-rated glazing products, there is a risk for misapplication if elements are selected separately. Using a systems approach can help guide proper application since manufacturers design and test entire assemblies to meet specific fire and life safety standards.
An important caveat with advanced fire-rated glass systems—such as curtain walls—is to use the specific supplied components, including glass, framing, exterior caps, back framing members, seals, and fire-safing within frames. Swapping out any part of the assembly to achieve a different esthetic or to meet a specific price may compromise the system's ability to provide the necessary level of fire protection. As a result, the product configurations and details shown in manufacturers' literature may be the extent of the available standard selection. To achieve a different look or develop a custom solution, one should consult with the manufacturer or supplier during the design process. Some manufacturers can provide design assistance and aid in the development and testing of custom systems.
To support other performance needs, advanced assemblies are available with impact and bullet resistance and can incorporate insulated glass (IG) units to comply with energy requirements.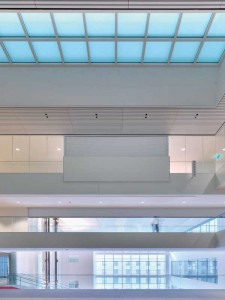 Project collaboration
Fire-rated glass systems can help building professionals streamline time, work, and costs, particularly if the manufacturer, supplier, or supporting team members are involved early in the design phase. Conversations during the initial stages of a project can help the manufacturer or supplier better understand project goals, from long-term performance to esthetics and cost. This leaves critical time for creative problem-solving and design adjustments, as well as additional testing, when necessary.
While not all fire-rated glass systems require manufacturer or supplier involvement, one should consider early collaboration when:
it is the team's first time using a given fire-rated glass system;
a fire-rated curtain wall needs to esthetically match a neighbouring non-fire-rated curtain wall;
a multi-storey curtain wall or very large glazed area is required;
using an exterior fire-rated glazing system (e.g. curtain wall or roof system);
project deadlines are tight; or
a custom application may require additional testing.
Beyond streamlining the design process, fire-rated glass systems can help conserve time and costs during installation. Since the manufacturer has selected each component to function well together within an assembly, a systems approach can help prevent re-ordering, project delays, and onsite work-arounds.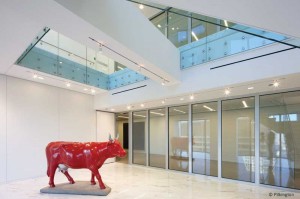 Regarding installation, it is helpful to keep in mind many frames in fire-rated glass systems are shipped as knock-down (K-D) kits ready for onsite assembly. Frame components may be pre-assembled or welded in the factory. However, since pre-assembly is often done on a case-by-case basis, it is important to verify the manufacturer has the resources to assist with this process. In the future, one should expect unitized options to further expedite the installation process.
Moving forward
Designed to meet various needs, fire-rated glass systems are efficient, effective, envelope-pushing products that add value to modern buildings. Incorporating them into building design does not have to be challenging. Project teams can contact a manufacturer or supplier to learn about their latest offerings; partnering with companies helps narrow the research lens by providing information on how fire-rated glass systems solve emerging design challenges, from installation issues to evolving code standards.
Ron Pitts is the Canadian sales manager for Technical Glass Products (TGP), a supplier of fire-rated glass and framing systems, along with specialty architectural glazing products. He has served as a glazing professional in Canada for more than a decade. Pitts can be reached at ronp@fireglass.com.
Endnotes:
[Image]: http://www.constructioncanada.net/wp-content/uploads/2016/01/IMG_6459_Fireframes-ClearFloor.jpg
www.wbdg.org/wbdg_approach.php: http://www.wbdg.org/wbdg_approach.php
[Image]: http://www.constructioncanada.net/wp-content/uploads/2016/01/Pilkington-East_Randolp_needs-Pilk-copyright.jpg
[Image]: http://www.constructioncanada.net/wp-content/uploads/2016/01/TGP-AIC-2.jpg
[Image]: http://www.constructioncanada.net/wp-content/uploads/2016/01/Fire-rated-glazing.jpg
[Image]: http://www.constructioncanada.net/wp-content/uploads/2016/01/TGP-Discovery-World-WV1L4610f.jpg
greenbuildingfiresafety.org/PDF/NASFM_greenfire_guide.pdf: http://greenbuildingfiresafety.org/PDF/NASFM_greenfire_guide.pdf
[Image]: http://www.constructioncanada.net/wp-content/uploads/2016/01/new-Gen.jpg
[Image]: http://www.constructioncanada.net/wp-content/uploads/2016/01/TGP-ClearFloor_3.jpg
[Image]: http://www.constructioncanada.net/wp-content/uploads/2016/01/Pilkington-Madison_Dearborn_011-copy.jpg
Source URL: https://www.constructioncanada.net/designing-outside-the-fire-rated-glass-box/
---