Designing EPCOR Tower
October 1, 2011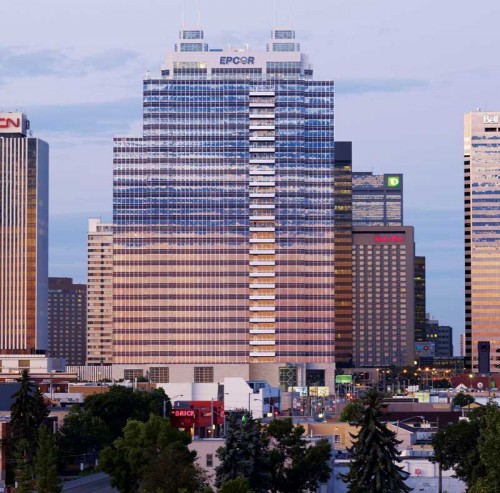 By Honor Morris, BA, Christiaan Odinga, BFA, BArch, MRAIC, and Ken Cantor
In the September 2011 issue of Construction Canada, the authors examined some of the basic design concepts behind EPCOR Tower—the first multi-storey office complex to be constructed in Edmonton in 20 years. This second article goes into more depth regarding the various elements and processes.
Construction on EPCOR Tower began in March 2008. The need to secure a reliable and experienced construction team was of paramount importance and the major trade contractors were assigned to the project within the first three months of an aggressive 3.5-year construction schedule.
Due to the project size and limited local experience in this building genre, there was only a select pool of trade contractors that could complete the development from a manpower, knowledge, and schedule perspective.
Excavation and shoring
The overall site for the EPCOR Tower extends beyond the footprint of the building. Six and a half months before the commencement of the excavation process, Alberta Environment revised some of the existing criteria and policies linked to the definition of "contaminated soil." This resulted in some of the soils on the site previously classed as "clean" to be reclassified as "slightly impacted."
The excavator contractor's environmental consultant then evaluated the available options. He recommended approximately 10 per cent of the 35,000 m³ (376,735 cf) of 'impacted' material be transported to a landfill site. The remaining 90 per cent—284,750 m³ (3,065,025 cf)—was available to be used at other suitable locations within the city after additional segregation and testing was undertaken. This strategy ultimately saved the developers hundreds of thousands of dollars and also diverted substantial quantities of material away from the landfill site.
The shoring element of the construction process incorporated approximately 4550 m (14,930 ft) of W530 and W610 steel soldier piles. The 250 soldier piles have an average depth of 18.2 m (60 ft). The parkade structure is effectively constructed on a zero-lot line basis on the north and south property lines, and near the 101st Street property line to the west. This condition and the depth of the four-storey underground parkade required the use of 820 grouted tie-backs.
Rebar and concrete
EPCOR Tower is a conventional cast-in-place concrete structure. The fly ash quantities are 50 per cent by mass of the total cementing material for many of the elements, including footings and columns. The horizontal elements have the more typical fly ash replacement of 25 to 30 per cent, to allow for rapid stripping of formwork. Concrete strengths are varied to reflect seasonal construction requirements as well as design criteria.
Parkade floors were designed to maximize the benefits of a proprietary forming system. Their 300-mm (11.8-in.) thick slabs were constructed without drops except where high mechanical plant and storage loads were expected. By locating floor drains at mid spans, the need for control of the slab camber was negated.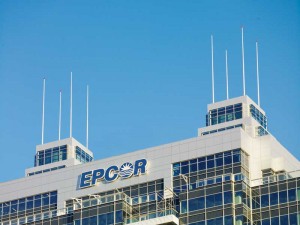 The tower's above-grade portions comprise slabs and band beams spaced to match the 9.1-m (30-ft) column spacing. Each beam cantilevers from 2 to 3.5 m (6.5 to 11.5 ft), providing for the construction of an unobstructed glass face. A structural steel option was considered, but the nature of the exterior cantilevers made this alternative less advantageous. Above the occupied floors, the building's crowns are constructed with galvanized steel, to allow for internal lighting of the open glazed structure.
Floor load capacities greater than code minimums were provided to ensure flexibility in office layouts and to permit some tenants to incorporate raised floors. Consideration was given to designing some floor areas to even higher loads, such as around the cores or to meet specific tenant requirements.
The footing and raft foundations for the tower are somewhat unusual in that they are founded 18 m (59 ft) below grade at their deepest, although not solely to accommodate the four-storey below-grade parkade. The site was purchased with an existing easement, held by the City of Edmonton, for a light rail transit (LRT) tunnel. As the design progressed, it became apparent the LRT tunnel would have an impact on the tower column footings and vice versa.
The proximity of the tunnel to the tower columns required separation of the very heavy tower from the relatively light adjacent LRT cavity, which would typically be prone to heave. By dropping the raft foundation, separating the two structures, and placing the north columns on an extension of the 2.3-m (7.5-ft) thick core raft foundation, it was possible for both structures to independently progress (and settle).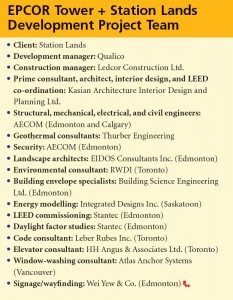 [4]Thurber Engineering, the geotechnical consultant, modelled the deep layers of clay, interbedded sand, and clay shale. It predicted approximately 40 mm (1.5 in.) of settlement for the tower foundations. Although the adjacent LRT tunnel carries two rows of parkade columns, the size and timing of the cavity was such that little to no movement was predicted. The use of pour strips around the tower structure allowed this differential settlement to occur in a relatively stress-free manner. While the result was the creation of a sub-parkade void and an extra level of structure to the tower, this space became useful following some value engineering reviews.
The mechanical design team indicated a preconditioned air supply would be of benefit for tower ventilation, and the structural team proceeded to design a large earth tube. Heat transfer is augmented by small closely spaced column 'fins' in the 9-m (29.5-ft) wide cavity above the tower raft. This design allows the earth tube to become thermally connected to the deep soil mass for both pre-cooling and pre-warming ventilation air.
A second advantage to dropping the raft down by 3.3 m (10.8 ft), was it allowed for creation of a large 725-m³ (25,603-cf) rainwater storage tank inside the core. The tank further contributes to the project's pursuit of Gold certification under the U.S. Green Building Council's (USGBC's) Leadership in Energy and Environmental Design (LEED) program. This is because it enables the harvesting of rainwater for use within the building.
The upper portion of the core void was used for an air passage to connect the two earth tubes together before entering the central air handler. As a final multifunctional use of a concrete structure, the storm flows for the site are piped to, and stored in, a 400-m³ (14,125-cf) surface tank that also provides footing walls for the complex multi-level west entrance plaza.
Curtain wall
The building envelope plays a critical role in energy use, particularly in an extreme climate. The envelope is vital to maintain adequate occupant comfort and provide a thermal barrier to the outdoors. It also helps minimize the effect of large temperature swings.
The EPCOR Tower building envelope has a window-to-wall ratio (WWR) of 49 per cent that uses an Ontario-made unitized curtain wall system, with panels craned into place after being delivered to the site. A 'stick-frame' system was utilized in the balcony areas to accommodate the differential movement experienced by the curtain wall and structural systems.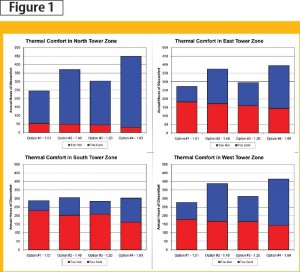 To ensure optimal building envelope performance was achieved, four curtain wall options were evaluated for both energy cost and thermal comfort. A full building energy model that used EE4 Version 1.71 was used to compare the annual energy costs of these four options (Figure 1). The software provided thermal comfort results based on defined temperature ranges.
The U-value of the overall glazing system selected was calculated to be 1.23 W/m2K (0.216 Btuh/sf-F). A computational fluid dynamics (CFD) simulation (Figure 2) was used to determine perimeter heating could be eliminated by modelling a full typical office bay to calculate the interior temperatures. The simulation model determined the temperature at the inside pane of glass on a winter design day to be 15.1 C (59.2 F).
Elevators
EPCOR Tower incorporates 16 elevators in total. There is a trio of machine-roomless (MRL) parkade shuttle elevators that travel at 106 m (350 ft) per minute. These three elevators are located at the east end of the building and provide service to all four underground parkade levels and to the main and second floors.
Six heavy-duty gearless traction low-rise elevators are positioned in two facing banks of three elevators and travel at 213 m (700 ft) per minute, providing service between the main and second floors, and office floors three through 14, with a capacity of 1814 kg (4000 lb).
Additionally, another six heavy-duty gearless traction high-rise elevators are positioned in two facing banks of three elevators. They travel at 365 m (1200 ft) per minute, providing service between the main and second floors, and office floors 14 through 28 with a capacity of 1588 kg (3500 lb).
Further, there is a heavy-duty gearless traction service elevator with an oversize cab that travels at 152 m (500 ft) per minute. This provides service from the inside loading dock at the P1 parkade level to all occupied floors (main through 28), as well as the mechanical penthouse on the 29th floor, with a capacity of 2268 kg (5000 lb).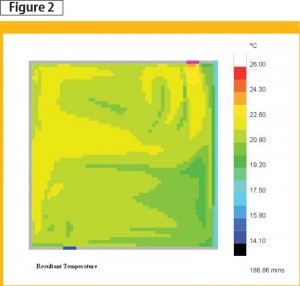 The gearless machines were specified because they are more energy-efficient than other types of elevators. The installation includes remote elevator monitoring and an elevator management system that allows the building operator in-house computer access to all elevator operating parameters. This facilitates enhanced security and permits daily performance adjustments.
Mechanical
The building's heating system comprises conventional boilers breeched together to combine the flue gases before entering a stack condenser (Figure 3). Two separate heat exchanger coils in the stack condenser (one with water, one with glycol) extract heat from these flue gases. Condensation forms when the gas temperature is lowered below its dewpoint and both latent and sensible heat is extracted. Water from the first heat exchanger is returned to the heating water system and preheats the boiler return water. Glycol from the second heat exchanger is used to pre-heat outdoor air intake shafts.
An exhaust heat recovery system is provided to capture waste heat from the building's general exhaust. A heat recovery unit, located at the exhaust outlet, captures the heat in the exhaust air and returns it to a heating coil in the main tower air handling unit via a glycol run-around loop. The exhaust air heat recovery is capable of providing a 19-C (66-F) temperature rise for 37,754 L/s (80,038 cfm) of outdoor air.
Free cooling can be achieved when the outdoor air wet bulb temperature is less than the chilled water temperature—in this case, 6.7 C (44.1 F). In the cooler months, the chillers are bypassed and only the cooling towers operate. This is accomplished by providing the building's cooling towers with integral immersion heaters capable of running year round.
A unique system of earth tubes is used to pre-heat and pre-cool the building's outdoor air. Earth tubes rely on the principle of geothermal exchange between the air and the surrounding earth (Figure 4, page 14). The ground can be used to heat air in the winter season and cool air in the summer season because the ground temperature essentially remains constant below the frost line.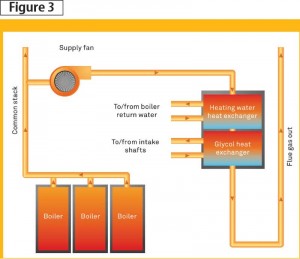 With a thermally conductive material as a separation, the heat transfer is greatest when the surface area in contact with the ground is the greatest. Using a low air velocity (about 1.02 m/s [200 fpm]) through the earth tubes allows maximum heat transfer to occur by providing adequate lag time. The EPCOR Tower has two vertical intake shafts that run down the exterior of the parkade walls and are pre-heated with low-grade heat recovered from the stack condensing boiler plant. The two shafts then turn 90 degrees to run horizontally below the parkade structure.
The earth tubes loop around the building's core before connecting to the main tower air handling unit that provides the rest of the conditioning. The desired temperature rise inside the earth tubes is from –34 to 6 C (–29 to 43 F), the latter being the constant ground temperature below the frost line, resulting in a 40 C (72 F) delta.
Each earth tube needed to be 80 m (262 ft) in length, assuming a heat transfer rate of 0.5 C/m (10 F/ft). The actual length of the constructed earth tubes are 116 and 97 m (380 and 318 ft). They are 9.5 m (31.2 ft) wide and 2.5 m (8.2 ft) high and have an airflow rate of 18,877 L/s (40,019 cfm) each. The earth tubes are designed for the maximum load—in Edmonton, this occurs in heating mode.
A rainwater collection tank, which is built into the tower structure below the parkade, provides water for flushing of water closets and urinals. The tank volume is 725 m3 (191,525 gal) and can provide 4434 m3 (1,171,443 gal) of annual domestic water savings. This, in combination with dual-flush water closets and low-flow urinals, faucets, and showers, results in a 63 per cent water use reduction.
Electrical
The main site electrical room, site communications room, vista cubicle room, and EPCOR's data centre are all strategically located on the P1 level of the underground parkade. There are dual high-voltage incoming feeds from two EPCOR substations providing redundancy. The tower's core includes one electrical room per floor and two communications rooms at each end of the core. The dual telecommunications risers on each floor provide flexibility and redundancy for the tenants.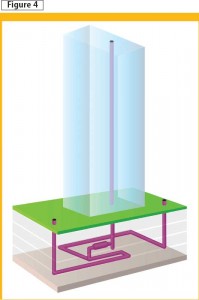 An average of 3 W/sf of receptacle load is supplied for the tenants, which does not include HVAC or lighting. Individual metering is available and a high-performance generator is located on the third floor in the southwest mini-tower for essential and building emergency/life safety loads.
Lighting includes high-performance and energy-efficient T5HO lamps as a building standard. Lighting levels have been designed in accordance with Illuminating Engineering Society of North America (IESNA) recommendations for all areas.
Parkade, service, and storage rooms
Target lighting level: 100 lux in parking areas, 200 to 300 lux in all vehicle and pedestrian circulation areas.
Luminaire selection: surface strip fluorescent.
Typical floor (open office) and enclosed private offices
Target lighting level: average of 500 to 700 lux maintained to meet lease requirements.
2. Luminaire selection: recessed direct/indirect in 2.4-m (8-ft) lengths with double lamp T5HO cross-section provided for tenant installation (complete with integral occupancy and daylighting sensors).
Meeting/breakout rooms
Target lighting level: 500 to 700 lux average maintained to meet lease requirements complete with integral occupancy and daylighting sensors.
Luminaire selection: recessed direct/indirect in 2.4-m lengths with double lamp T5HO cross-section provide for tenant installation.
Public lobby areas and main/second floors
Target lighting level: 300 lux ambient.
Luminaire selection: for ambient lighting, recessed direct 229 x 229-mm (9 x 9-in.) square potlights with compact fluorescent and metal halide lamps with high-performance optics (lamps were chosen based on the area ceiling heights); for accent lighting, solid-state light-emitting diode (LED) fixtures with colour-changing and dimming capabilities to highlight the architectural features inside the public lobby areas.
Exterior luminaries
The selected exterior luminaires provide ambient lighting by using high-performance pole-mounted metal halide lamps throughout the plaza areas on the main floor. Solid-state LED fixtures with colour-changing and dimming capabilities were specified to highlight the architectural features at the exterior façade lighting at the top of the tower.
Local controls are provided for all lighting installations within the facility. Use of occupancy sensors, daylighting sensors, and dimming systems are incorporated into the luminaire designs where possible to maximize user comfort. All luminaires are equipped with addressable ballasts that can be controlled via a centralized computer control system and then interfaced with local sensors in addition to local user workstation controls.
The lamp sources meet specific design criteria for all areas. Linear fluorescent T8 lamps were specified for the parkade, service rooms, and washrooms throughout the tower based on lighting performance and lamp life considerations. T5HO lamps were specified for the tenant areas based on lighting performance and lamp life considerations. Metal halide, LED, and fluorescent sources are used for all internal building applications where appropriate; metal halide and LED sources are employed exclusively for all exterior building applications. The use of incandescent lamp sources has been avoided.
Emergency and night lights are provided by using base building luminaires serviced from the emergency generator. Emergency and night lighting luminaires are located along all designated emergency egress paths.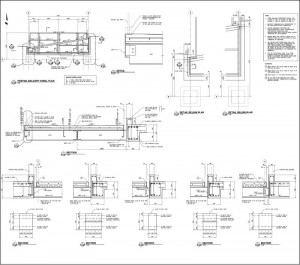 Life safety
The security system includes a closed circuit television (CCTV) monitoring system. The system is composed of cameras, monitors, and video recording equipment. The access control system comprises card readers.
The life safety system is a fully addressable, dual stage fire alarm system. Sprinkler fire protection is required and used throughout the building. It is fully monitored by the fire alarm system and incorporates a floor-by-floor smoke evacuation system.
Conclusion
EPCOR Tower acts as a catalyst for the rejuvenation of the northern edge of downtown Edmonton. Qualico's courageous and visionary direction to develop Station Lands on an abandoned rail yard will help position Edmonton as a leader in urban revitalization in North America.
The authors would like to thank Jillian Pederson (AECOM Mechanical), Andy Smith (AECOM Structural), David Brown (EIDOS Consultants), and Mike Roper (Ledcor) for their invaluable assistance in the preparation of this study.
Honor Morris, BA, is media relations manager for Kasian Architecture Interior Design and Planning Ltd. She has 20 years of journalistic experience. Morris can be reached at honor.morris@kasian.com.
Christiaan Odinga, BFA, BArch, MRAIC, is an associate with Kasian, based in its Edmonton office. He has more than 20 years of professional experience and is the lead designer and project manager for EPCOR Tower. Odinga can be contacted via e-mail at christiaan.odinga@kasian.com.
Ken Cantor is the manager of Qualico's commercial division in Edmonton. He has been responsible for the development, acquisition, and management of commercial properties valued in excess of $500 million, including neighbourhood shopping centres, retail power centres, major downtown mixed-use development projects, and downtown and suburban office space. Cantor can be reached at kcantor@qualico.com.
Endnotes:
[Image]: http://www.constructioncanada.net/wp-content/uploads/2016/02/Tower_Epcor-_164.jpg
[Image]: http://www.constructioncanada.net/wp-content/uploads/2016/02/03.jpg
[Image]: http://www.constructioncanada.net/wp-content/uploads/2016/02/2011Aug3_Epcor-_084.jpg
[Image]: http://www.constructioncanada.net/wp-content/uploads/2016/02/EPCOR-sb.jpg
[Image]: http://www.constructioncanada.net/wp-content/uploads/2016/02/F1-1.jpg
[Image]: http://www.constructioncanada.net/wp-content/uploads/2016/02/F2-1.jpg
[Image]: http://www.constructioncanada.net/wp-content/uploads/2016/02/F3.jpg
[Image]: http://www.constructioncanada.net/wp-content/uploads/2016/02/F4.jpg
[Image]: http://www.constructioncanada.net/wp-content/uploads/2016/02/epcor_chart.jpg
Source URL: https://www.constructioncanada.net/designing-epcor-tower/
---