Designing and specifying zinc wall cladding systems
by brittney_cutler_2 | May 23, 2022 10:00 am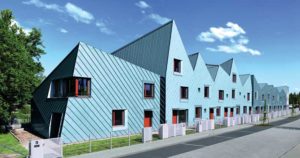 By Charles (Chip) McGowan
With a potential lifespan of 100 years or more, architectural zinc cladding delivers longevity, sustainability, and resiliency to meet or exceed specified requirements on commercial, municipal, residential, educational, health care, and other thoughtfully designed projects.
Zinc as a construction material has a history reaching to antiquity. Modern architectural zinc is specified today for wall cladding, roofing, rain management, and architectural details. It can be fabricated into a variety of panel styles, sizes, and shapes. Today's zinc material options also offer different colours and coatings, complemented by numerous installation techniques and systems.
This proven, natural construction material is extremely long-lasting and requires minimal maintenance. Throughout its long lifetime, its dynamic esthetic evolves as the zinc material's patina is influenced by the project location's unique climate and protects this ecologically friendly material for many generations.
Elemental, natural, and sustainable
While zinc could be considered a precious metal for its usefulness, it is not in limited supply. Zinc is the 24th most abundant element in the earth's crust. The largest working reserves are in the United States, Asia, and Australia. Research indicates zinc resources should be available for at least the next 700 years, without taking recycled zinc scrap into account.
In design and construction, zinc is known to be a dense, cost-effective material that is easy to form, cut, and fabricate. In comparison to other materials or different cladding, zinc cladding is cost-effective, in part, because it lasts up to 100 years or more. Pure zinc is somewhat brittle and works best as a building material when alloyed with small amounts of titanium and copper.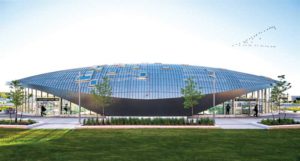 Supporting environmental and human wellness, the metal alloy used by industry-leading architectural zinc manufacturers does not contain lead, iron, cadmium, selenium, manganese, or magnesium. Further, chromium-6 has been removed from common coatings applied to architectural zinc by leading manufacturers. Chromium-6 and other heavy metals can be toxic, resulting in health issues when exposed to high amounts and over extended periods.
Energy-efficient, low-emission production is part of what makes zinc cladding ecologically friendly. Zinc's natural abundance, resiliency, recyclability, and longevity also are key factors. As little as one-quarter to one-third of the energy is needed to produce architectural zinc alloys, in comparison to other metals such as stainless steel, copper, and aluminum. This is because of zinc's low melting point and its malleability to shape. Emissions during smelting and processing can be minimized through state-of-the-art production equipment. In the highest quality manufacturing companies, pre-consumer scraps are 100 per cent recycled.
High-quality zinc building products are infinitely recyclable without loss of its chemical or physical properties. Recycled content in architectural zinc products reaches up to 40 per cent for pre-consumer and 10 per cent for post-consumer, depending on the source.
In Europe, the recycling rate for zinc is more than 90 per cent in the scrap industry. One reason for this is the high residual material value of up to 60 per cent of the original material price, which is a strong incentive to collect scrap and waste materials.
Architectural zinc wall cladding can contribute to meeting criteria of green building programs such as:
∞ Building Research Establishment Environmental Assessment Method (BREEAM), developed in the U.K. and adapted for other countries including Canada.
∞ Canadian, U.S., and World Green Building Councils' (WorldGBC's) Leadership in Energy and Environmental Design (LEED) rating systems.
∞ Green Globes, developed by ECD Energy and Environmental Canada.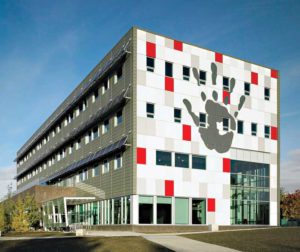 Product and material testing and documentation are necessary to support sustainability claims. When assessing an architectural zinc product, request an environmental product declaration (EPD). EPDs are third-party verified, internationally recognized, and standardized tools for assessing a building product's sustainability.
Considering the entire life cycle of a product or material, the Cradle to Cradle Products Innovation Institute's evaluation differs from other certifications in its focus on safe, sustainable products for a circular economy. To receive Cradle to Cradle certification, products are assessed from material generation to reuse across five categories: material health, material reuse, renewable energy and carbon management, water stewardship, and social fairness.
Zinc wall cladding product examples
Used in European building construction since the 1800s, titanium zinc was introduced to North America as an architectural material in 1992. In Canada, successful projects can be seen from coast to coast.
For wall cladding products, facade systems, and other building applications, architectural zinc is typically manufactured in continuous 1000 mm (39.4 in.) wide coils. From these large coils, material is shipped as either flat sheets or rolled in smaller coils in 24-, 22-, 20-, 18-, 16-, and 14-gauge thicknesses. Custom width coils can be ordered to minimize waste and facilitate manufacturing various profiles. Tiles and panels can be fabricated as roll-formed or brake-formed engineered wall cladding systems. Any scrap generated through this process is 100 per cent recyclable.
Dimensions, system orientation, shapes, sizes, and perforations can be further defined and customized to meet a project's individual specifications. Typical zinc wall cladding products include:
∞ Flat-lock tiles which can be installed horizontally, vertically, or with overlapping seams for a running bond or complex designs on flat or curved surfaces. Usual dimensions show face heights of 200 to 400 mm (8 to 16 in.) or larger, with lengths up to 3 m (10 ft). Larger sizes require a heavier gauge. Shapes vary from rectangular, square, or diamond.
∞ Standing seam panels which can be oriented horizontally, vertically, and diagonally to produce the desired linear look. Standard seam heights are typically 25.4 and 38.1 mm (1 and 1.5 in.). Lengths vary up to 12 m (40 ft) with typical widths ranging from 300 to 425 mm (12 to 16.75 in.).
∞ Horizontal panels which allow for an emphasis on the reveal with face heights up to 254 mm (10 in.) and lengths up to 3 m. Joint widths from zero to 25.4 mm are possible. A hairline joint minimizes shadow lines for a flush look. Panels and joints can be configured to create vertical joints or can be staggered with backer plates.
∞ Vertical reveal panels which are like those offered for horizontal installations and feature face widths up to 330 mm (13 in.). Vertical and horizontal panels can be combined to form innovative building envelope designs.
∞ Corrugated profiles which are available as sinusoidal profiles or as trapezoidal, "box" profiles to clad large areas with ease using either exposed or concealed fasteners. Panels can be installed horizontally, vertically, or diagonally. Common sinusoidal profiles have heights of 12.7 and 22 mm (0.5 and 0.875 in.). The typical sine frequency is 68 mm (2.67 in.). Trapezoidal profiles for wall applications often present a strong shadow effect with depths up to 50 mm (2 in.).
∞ Cassette panels which are often a part of an engineered curtain wall system. These panels allow for larger format panels by using reinforcements behind the panels and incorporated into the frames. For these large panels, 16 gauge is typically recommended.
∞ Perforated panels which provide the benefits of zinc, combined with advantages of daylighting and passive solar shading, plus low-maintenance punched openings that naturally patina.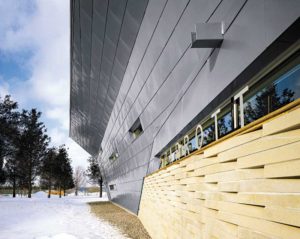 Architectural zinc can be shaped into a multitude of forms—geometric, organic, or curves—to provide innumerable design options. For more budget-conscious projects, specifying standard panel sizes and shapes helps to reduce manufacturing and fabrication costs, as well as time and expenses associated with installation labour.
Specifying for performance
The current industry standard, ASTM B69-20, Standard Specification for Architectural Rolled Zinc, is applicable to wall cladding, roofing, and other exterior building products. It details Type 1 and Type 2 architectural rolled zinc, where Type 2 has a higher copper composition and a graphite-grey patina.
Material compatibility and cautions
Architectural rolled zinc is affected by its surrounding conditions. This means wall cladding products loosely stacked on pallets or platforms must be protected by a weatherproof and ventilated covering. They cannot be stored in contact with other materials that could cause staining, denting, or other surface damage. Acidic materials are of key concern. Avoid placing zinc in contact with or downstream from acidic woods including oak, red cedar, white cedar, larch, hemlock, or chestnut. Red rosin paper produces an acidic vapour and should never be used as a slip sheet; further, pH-neutral sealants should only be used. The manufacturer's recommended storage and handling guidelines should also be followed.
Glass, aluminum, galvanized steel, stainless steel, painted steel, and most solid, dry building materials present no known compatibility issues with zinc. Corrosion can be caused by electrochemical reactions, such as when copper is installed above zinc. Chlorides also are problematic and may be found as an additive in mortar or concrete as a bonding agent or to inhibit freezing. Architectural zinc also should be protected from acidic cleaning agents. Contact with human perspiration should be avoided. Wearing clean gloves when handling and installing the zinc material may be necessary.
Joints and sealants
Zinc has a high coefficient of thermal expansion and should have accommodations in the design to allow for movement. Caulking often is not required at these critical junctures, helping to lower initial and lifetime costs, and to reduce recurring maintenance.
The first consideration at any joint should be how to achieve the detail minimizing the use of solder or sealant. Sealants can limit airflow or trap moisture behind the zinc panels and decrease the panel's lifespan. If soldering is essential, choose one that does not contain lead, cadmium, or copper to maintain zinc's environmental material attributes recognized by LEED and other green building programs.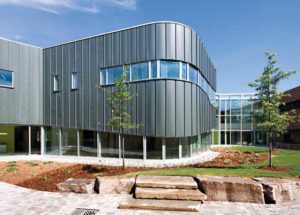 Resilience and longevity
Installed properly, zinc cladding systems will resist air and water infiltration. For regions with high winds and hurricane conditions, zinc wall systems have been tested to withstand high winds as required by codes and local jurisdictions. In environments which are susceptible to fires, zinc also provides a non-combustible solution.
Zinc's inherent metallic properties allow the material to deliver low-maintenance and long-lasting performance in wall cladding applications. No paint, varnish, or sealants are required. Runoff is minimal, non-staining, and does not adversely affect the environment as the zinc material's patina naturally forms.
Patination process and appearance
Mill-finish architectural zinc starts with a bright surface. However, most architects and specification professionals select zinc for its future patina appearance. Like copper, zinc develops its distinctive patina, or surface crust, based on the alloy composition and local environmental conditions.
The patination of architectural zinc occurs through a two-step chemical reaction. First, the zinc combines with water and oxygen to form zinc hydroxide, and then with carbon dioxide in free-flowing air, the zinc generates a dense outer layer insoluble to water and a packed inner layer of alkaline zinc carbonate.
A patina's formation is a process of the gradual growing together of zinc carbonate "freckles" and the rate of its formation is related to the slope of the surface. The patination will be slower on a vertical wall surface than on a slightly sloped one. Its speed can vary between six months and five years or more, depending on climatic conditions. The more exposure to wetting and drying cycles, the quicker the patina will develop.
While the basis of the patina is alkaline zinc carbonate, additional substances are incorporated from the local humidity, rainfall, snowfall, and air pollution levels. Therefore, the colour of the patina can vary from one place to another. The natural patina will appear lighter when used in marine locations where the air contains chlorides. When used in environments where sulfur levels are higher, the patina may appear somewhat darker. In marine environments, lighter colours of architectural zinc will not show salt deposits as much as darker surfaces. For esthetic reasons, lighter surfaces are often chosen for coastal applications.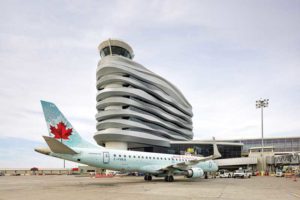 After the true patina has fully formed, the process will slow down, but it never stops. The natural patina will form to a soft blue-grey or graphite-grey colour, depending on the alloy type. To achieve this vintage look at the time of installation, some architectural zinc manufacturers can accelerate the patination process under factory-controlled conditions before the material is fabricated into wall cladding.
Additional colour and coating options for zinc wall cladding include:
∞ Pickling—a pre-treatment process which chemically etches the metal and derives the colour from the alloy. The resulting appearance brings out the metal's natural grey colour and subtle grain texture.
∞ Phosphating—a treatment where phosphate crystals are deposited on the surface to create a darker colour from the titanium or copper alloy. The resulting colour is produced by the durable phosphate coating, which looks like the zinc structure of natural patina.
∞ Colour coating—a finish applied to the zinc that seals the metal with a selected colour during its manufacturing process. The resulting colour is imparted by the coating.
While coating the zinc surface will delay the visible patination process longer, all these colouring techniques will eventually fade and give way as the material continues to naturally weather and form its patina.
Selection criteria and considerations
Zinc manufacturers can be evaluated and qualified based on material quality, flatness, finish colour, texture, selected panel profile, application system, availability, customer service, and technical support. Selecting a zinc manufacturer that certifies its material to ASTM B69-20 and has demonstrated its experience in similar climates and applications is a good indication they will prove successful on future projects. Designating one zinc manufacturer as the basis of design will further minimize opportunities for variations in material performance.
Once selected, the manufacturer should provide product data, details, and instructions as well as material samples for submittal. These usually are accompanied by engineering calculations and shop drawings provided by the subcontractor. The calculations must be prepared and stamped by a professional structural engineer who is licensed and registered in the same location as the project.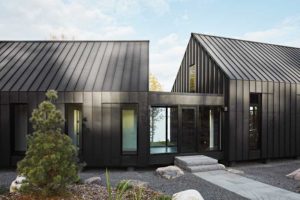 To ensure a zinc wall cladding system meets a project's esthetic and performance requirements, a mockup may be necessary. This is produced using the specified materials and methods, and quality control standards. If needed, a full-size mockup may be installed on location for final approval.
A high-quality architectural zinc manufacturer will offer in-depth information on efficient and cost-effective fabrication and installation. As examples:
∞ Roll-forming zinc panels is almost always less expensive than brake-forming, and there are numerous profiles that can be roll-formed for wall applications.
∞ Since labour often represents 66 per cent or more of the contract, expensive, time-consuming details should be reviewed to ensure they are necessary to fulfil the architect's vision.
∞ Fewer pieces can save time and labour. However, heavier gauge zinc or smaller panels may be necessary to reduce perceived waviness (oil-canning).
∞ Panel sizes should be chosen to optimize the width of the zinc sheet or coil and to minimize scrap material. Similarly, panel lengths should be limited for easier handling, fabricating, and installing, as well as to reduce waste in the shop and the field.
Zinc manufacturing partners also should provide care and cleaning guidelines. Some manufacturers may require washing for its warranty. For esthetic reasons, it is recommended to clean the surface of the material with clean water (not seawater) at least twice a year or more, if necessary, depending on local conditions. Generally, zinc wall cladding takes minimal maintenance to retain its distinctive esthetic and long-lasting, sustainable performance.
Author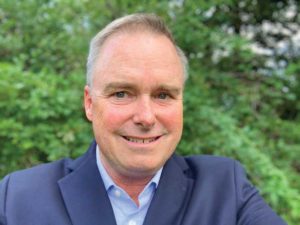 [8]Charles (Chip) McGowan is the president of RHEINZINK America Inc., and draws from more than three decades of experience working with architectural, specifications, and installation professionals on projects featuring metal building products. He is a member of the ASTM B02 Nonferrous Metals and Alloys Committee and represents RHEINZINK's membership in the Metal Construction Association (MCA), U.S. Green Building Council (USGBC), and the American Institute of Architects (AIA). McGowan can be reached at charles.mcgowan@rheinzink.com.
Endnotes:
[Image]: https://www.constructioncanada.net/wp-content/uploads/2022/05/RHEINZINK_Facade-StandingSeam_2296.jpg
[Image]: https://www.constructioncanada.net/wp-content/uploads/2022/05/RHEINZINK_ON-TTC-Vaughan_East1.jpg
[Image]: https://www.constructioncanada.net/wp-content/uploads/2022/05/RHEINZINK_AB-UofCalgary-CDC2.jpg
[Image]: https://www.constructioncanada.net/wp-content/uploads/2022/05/RHEINZINK_ON-LoyalistCollege4.jpg
[Image]: https://www.constructioncanada.net/wp-content/uploads/2022/05/RHEINZINK_ON-SimcoeCounty2.jpg
[Image]: https://www.constructioncanada.net/wp-content/uploads/2022/05/RHEINZINK_AB-EIA_TomArban53.jpg
[Image]: https://www.constructioncanada.net/wp-content/uploads/2022/05/Retreat-LakeHuron-ON_Architect-BoothHansen_Photo-MaximeBrouillet042.jpg
[Image]: https://www.constructioncanada.net/wp-content/uploads/2022/05/McGowan_Headshot.jpg
Source URL: https://www.constructioncanada.net/designing-and-specifying-zinc-wall-cladding-systems/
---