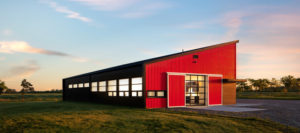 Dory Azar Architect Inc. (DAAi) unveiled a fresh take on a traditional pole barn along Highway 3 in Tecumseh, Ontario.
Surrounded by 26 ha (64 acres), the new outbuilding includes a durable equipment storage area, plus a warmer space for family gatherings and casual hangouts.
The structure is built using traditional wood-framed pole barn methods and is skinned with various metal sidings. The black metal roof cascades over the south elevation, as if to cloak it in privacy from the highway.
The shed roof is sloped to maximize the amount of roof surface area available for future solar panels. The building elevation contains a string of windows which cascade toward the ground from west to east. The largest window groupings were implemented in the more public areas of the building. The higher windows were implemented to offer more privacy to other areas of the space.
The final build gives the owners additional space to host gatherings, tend to gardens, and enjoy spare time to foster hobbies and relaxation.