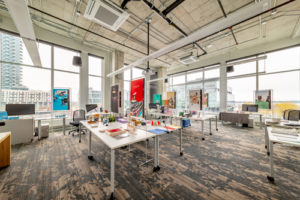 George Brown College (GBC) has opened a new leading-edge facility with the relocation of its School of Design to the Daniels City of the Arts complex in Toronto.
The move represents an expansion of the college's waterfront campus, establishing a hub for design, innovation, and technical skills training in the community.
Built to help address critical skills shortages in industries requiring advanced design thinking, the multipurpose facility provides more than 9290 m2 (100,000 sf) of space for hands-on learning and collaboration, both among students and with industry partners.
"This modern, flexible space is a perfect match for our holistic approach to design—which encompasses not only esthetics, but also technical feasibility, business feasibility, and social purpose," said Anne Sado, president of GBC. "As digital disruption transforms the design, arts, and digital media sectors, we are preparing creative people to apply their skills in relevant, career-focused ways, while enabling enhanced industry research and innovation."
The facility houses an innovation exchange, which is a research hub where students and businesses team up to bring new ideas to market. It is also home to a Future Living Lab, digital incubator, student maker space, and the globally recognized think tank, the Institute without Boundaries.