CSC Conference: F. Ross Browne Award for metal panel article
June 6, 2012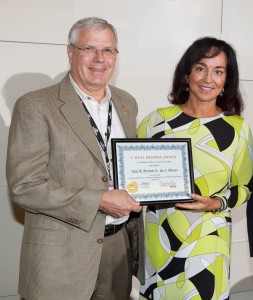 Late last month, at the Construction Specifications Canada (CSC) National Conference in Ottawa, Paul Bertram Jr., CSC, FCSI, CDT, LEED AP, and Ian J. Manser, LEED GA, were honoured with the F. Ross Browne Award for writing excellence.
Named after the late CSC president (and "Curmudgeon's Corner" columnist), the prize goes to Construction Canada authors based on originality, relevance, and style. This year, editorial advisors selected the March 2012 piece, "Envelope and Efficiency: Meeting Code Requirements with Insulated Metal Panels." The article examines Canadian code compliance with respect to building envelope claddings.
Bertram, a director with Kingspan Insulated Panels and a CSC member, is the current president of the Construction Specifications Institute (CSI) in the United States. He accepted the award on his co-author's behalf during the conference.
For more on the various awards and events associated with the CSC National Conference, see the July 2012 issue of Construction Canada, which will feature an in-depth wrap-up of the show.
Endnotes:
[Image]: http://www.constructioncanada.net/wp-content/uploads/2014/06/Bertram.jpg
Source URL: https://www.constructioncanada.net/csc-conference-f-ross-browne-award-for-metal-panel-article/
---