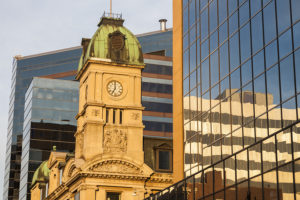 This year's Construction Specifications Canada (CSC) National Conference will be hosted by the association's Regina Chapter. Running May 22 to 26 at the Delta Hotel Regina, the event is putting together a technical program that will encourage delegates to reflect on the many changes affecting design, construction, opportunities, and specifications in the country and worldwide.
Those looking to expand their knowledge repertoire can do so by attending the conference's various sessions, including:
"Fire Resistance and Firestopping" with Bill McHugh of Firestop Contractors International Association (FCIA);
"Multi-Story Wood Building Advancement" with Marc Alam from WoodWork;
"Open Office and Exposed Ceiling Acoustic Solutions" with Bob Lang of Armstrong World Industries Inc.;
"Passive House Design: A Primer" with Michael Nemeth of Passive Solar Canada;
"High Performance Glazing–Window and Door Advances for Better Buildings" with Al Dueck of Duxton Windows;
"Acoustic Misconceptions in Design and Construction" with Kiyoshi Kuroiwa of Aercoustics; and
"Structural Masonry in Multi Story Buildings and Movement" with Sasha Kisin of Saskatchewan Masonry Institute.
A luncheon for delegates on May 23 will feature keynote speaker Greg Johnson, a tornado hunter and one of North America's top professional storm-chasers and severe weather experts.
The conference gives professionals the opportunity to socialize with companion programs (such as Tunnels of Moose Jaw tour, Little Chicago Escape Room, RCMP heritage museum and gallery tour, and lunch and wine pairing at Willow on Wascana), Connections Café, the President's Ball and President's Reception, and Fun Night experiencing a Regina Tailgate Party.
Additionally, the annual awards luncheon will be held on May 25. One of the honours named will be the winner of the F. Ross Browne Award for the best article to appear in Construction Canada.
Registration is now open. Click here for more information. A full schedule of activities is also available here.