Creating public space at an Ottawa gallery
by carly_midgley | July 31, 2017 1:58 pm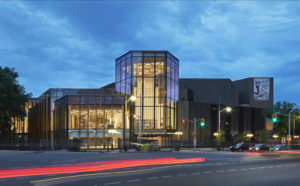 On Canada Day, a new wing of Ottawa's National Arts Centre[2] (NAC) was inaugurated, reimagining the gallery as a public- and pedestrian-accessible space connected to the city as a whole. Although the original design was closed off to reflect the then-target audience of the 'elite,' this renovation brings transparent public space to the building and welcomes a broader variety of visitors.
"The NAC can now support activity throughout the day in light-filled spaces designed to engage the public and become the crossroads for the performing arts community," said Donald Schmitt, principal at Diamond Schmitt Architects[3], which designed the new wing.
This open esthetic is supported by the facility's entryway, which now faces the city and features a digital live stream of Canadian artistic works, known as the 'Kipnis Lantern.' A glass curtain wall system also contributes to the sense of connection, as do the views of Confederation Square and Parliament Hill provided by a new, upper-level lounge. (For more on Parliament Hill, click here[4] to read our cover story on the Houses.)
Natural elements are also prevalent throughout the six new spaces, with a structure of exposed wood, Douglas fir ceiling coffers, and lobby floors made of Ontario limestone. Each space is designed for different types of events, from the North Atrium (where educational and recreational events, such as concerts, can be held) to Elgin Street's theatre- and music-focused Fourth Stage (set for completion in the fall).
Existing spaces have also been rethought, including the Panorama Room, now expanded to accommodate 600 or more people, and Southam Hall, the main auditorium.
"Southam Hall has been reshaped to achieve significant improvements in acoustics as well as patron comfort," said Jennifer Mallard, senior associate and project architect with Diamond Schmitt. "A new orchestra shell and updated production facilities mark the next stage of renewal."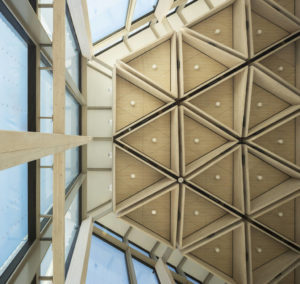 Diamond Schmitt has also worked on a variety of other performing arts projects, including:
Mariinsky II Theatre[6] in St. Petersburg;
Maison Symphonique[7] in Montréal;
Four Seasons Centre for the Performing Arts[8] in Toronto;
David Geffen Hall at Lincoln Center[9] in New York City; and
Buddy Holl Hall of Performing Arts and Sciences[10] in Lubbock, Texas.
"Thanks to Donald Schmitt's brilliant design, today the NAC embraces the nation's capital, and emerges from its original concrete structure into an open, transparent, and modern public building, to become the living room of the city," said Peter Hernndorf, president and CEO of NAC.
Endnotes:
[Image]: https://www.constructioncanada.net/wp-content/uploads/2017/07/NAC-Exterior-Lisa-Logan.jpg
National Arts Centre: https://nac-cna.ca/en/
Diamond Schmitt Architects: http://dsai.ca/
here: https://www.constructioncanada.net/parliamentary-privileges-2/
[Image]: https://www.constructioncanada.net/wp-content/uploads/2017/07/NAC-coffer-roof-Doublespace-Photography.jpg
Mariinsky II Theatre: https://www.mariinsky.ru/en/about/history/mariinsky_ii/
Maison Symphonique: http://www.osm.ca/fr/la-salle/
Four Seasons Centre for the Performing Arts: http://www.coc.ca/AboutTheCOC/FourSeasonsCentre.aspx
David Geffen Hall at Lincoln Center: http://www.lincolncenter.org/venue/david-geffen-hall
Buddy Holl Hall of Performing Arts and Sciences: https://www.constructionspecifier.com/design-for-buddy-holly-music-venue-looks-upbeat/
Source URL: https://www.constructioncanada.net/creating-public-space-at-an-ottawa-gallery/
---