Controlling temporal, spectral, and spatial properties of sound
By Viken Koukounian, Ph.D., P.Eng., and Niklas Moeller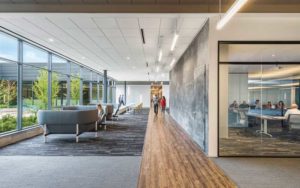 The increased focus on safety and work/life balance prompted by the pandemic has kicked the "people first" mindset extolled by standards such as WELL and Fitwel into high gear. As organizations start to bring, or attempt to draw, work-from-home (WFH) staff back into the office, there is strong agreement about workplaces being designed with deep commitment not only to occupant satisfaction, but to health, well-being, and social connection.
At the same time, there is growing conviction amongst the architectural and design community that these goals must be achieved through concern with "equity"—and applied to "real-world" needs—rather than offering amenities such as pool tables, private chefs, and other perks; in other words, they are a matter of how employees are treated rather than what they are treated to.1
The experiences of those forced into WFH arrangements by stay-at-home orders (i.e. rather than making the choice in response to their own needs) proved anything but equitable. Residential environments are not specifically designed to support information workers. Although some were able to carve out independent and well-equipped workspaces within their homes, others struggled with less-than-ideal conditions (e.g. sharing a workspace with children and other family members) which negatively impacted their productivity and engagement.
Employees whose homes are conducive to focus might be surprised to learn one of the primary reasons respondents to the 2020 Gensler Work from Home Survey cited for wanting to return to the office was the need for a quiet, distraction-free environment; however, this desire makes sense when placed in the context of the results of surveys, such as one run by worldwide employment website Indeed, which indicated 48 per cent of those working from home are distracted by outside noise in their neighbourhoods, and apartment dwellers are 51 per cent more likely to be distracted by their neighbours than employees living in single-family homes.
Whether an organization wants their office to be occupied full-time post-pandemic or to serve as a critical part of a hybrid working model, it has the potential to act as a "great equalizer"—a shared facility specifically designed to support all its occupants. It is clear acoustics matters—to those hesitant to return because they find it easier to concentrate at home, as well as to those wanting to return because they need a space conducive to focus—and is, therefore, vital to ensuring employees not only enjoy equal access to the facility itself, but to a key Indoor Environmental Quality (IEQ) parameter needed to work comfortably and effectively.
But what is "acoustical equity"? And how does one achieve it?
These are significant questions, particularly considering the fact the Center for the Built Environment's (CBE's) post-occupancy survey dataset—one of the largest in the world—shows poor acoustics remains the most significant source of dissatisfaction among workplace occupants.

Control the content you see on ConstructionCanada.net!
Learn More.