Creating a regenerative building in Southern Ontario
April 7, 2015

By Craig Applegath, PPOAA, AIBC, FRAIC, LEED AP, and Charles Marshall, P.Eng., LEED AP
What if a building could function like a forest? What if a project could be designed so it was an integral part of nature and enhanced its surroundings? This was the approach taken by the design team for the York Region
Forest Stewardship Education Centre (YRFSEC)—a new single-storey, 371-m2 (4000-sf) building located in the middle of one of Southern Ontario's natural treasures.
In order to become part of the ecosystem and not disturb the area's natural beauty, the design team saw the need for integration in four key areas:
Energy: The facility would have to run on only clean energy provided by wind and the sun, generating no pollution or greenhouse gas (GHG) emissions;
Water: It would have to capture rainwater, returning it to the watershed cleaner than when it arrived;
Place: It would have to be uniquely rooted in its place, reflecting the natural landscapes that surround it; and
Design: It would have to provide delight and wonder, inspiring all who visit it and reinvigorating the connection to the natural world.
These four pillars were the foundation for the YRFSEC. This project targets the highest level of green building—including Platinum certification under Leadership in Energy and Environmental Design (LEED) and meeting all petals of the Living Building Challenge (LBC)—and explores the boundaries of regenerative design, working to restore and enhance the world around it.
Welcome to the forest
York Region's Department of Natural Heritage and Forestry is responsible for the management of 21 tracts of forest located on the Oak Ridges Moraine, a sprawling geographical feature that is one of Ontario's most important ecological and hydrological networks. The Hollidge Tract is an 80-ha (197-acre) patch of responsibly managed forest and trails outside of the town of Whitchurch-Stouffville. The forest's unique history provides an example of humanity's ability to destroy and restore the natural world.
In the late 1800s, the lands were cleared for agriculture. However, the sandy soils of the moraine proved ill-suited for farming. After the turn of the century, the farms were abandoned, leaving behind a northern desert covered in eroded soils and
sand dunes.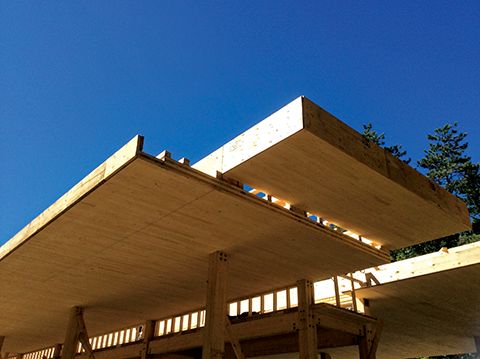 In 1924, the province of Ontario purchased the Hollidge Tract and began a decades-long process of restoration. Red pines were planted to restore the soil and provide shade for other coniferous and deciduous species to grow beneath them, mimicking the native forest originally on this site. Under the care of the York Region Forestry team, the area has regrown to a healthy, maturing forest, providing habitat for countless species of plants and animals, as well as a network of trails where visitors can exercise and experience the wonder of the outdoors. Today, the site is a living example of how people can partner with nature to improve and enhance the land.
The Hollidge Tract is home to 'Nature's Classroom,' a program where visitors can learn not just about the forest, but also about the complex relationship between people and the natural world. The existing Education Centre was small and had outlasted its useful service life; by 2011, plans for its replacement were developing.
York Region aspired to create a new space that would function as a home for equipment and training while also serving as an education centre and hub for community outreach. They also wanted the new YRFSEC to reflect the heritage of the Hollidge Tract and demonstrate a legacy of stewardship and regeneration intended to continue for another 90 years and beyond.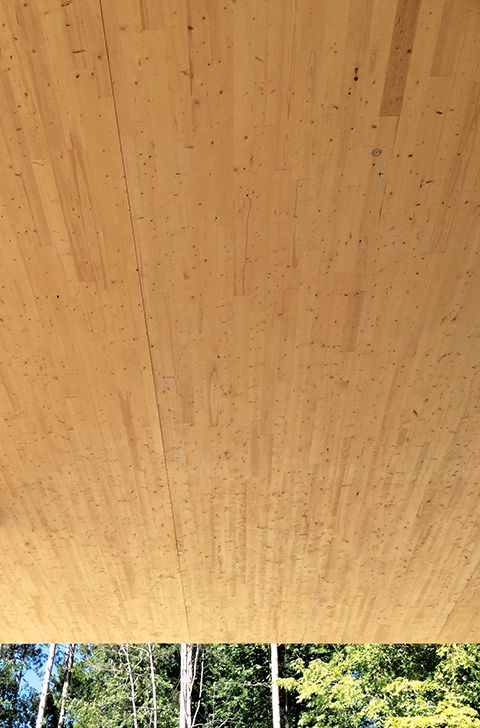 Regenerative design and development
Most of today's green buildings aim to deliver a 'do less harm' model of sustainability. The problem with this approach is it can only slow the rate at which damage is inflicted on the environment. This also begs the question: what about the existing problems? The YRFSEC focused not only on reducing harm to the environment, but also actually being a positive contributor to the nature surrounding it.
Over the past two centuries, humans have used up natural resources that took billions of years to develop. Problems such as drought, forest fires, drained aquifers, eroded hillsides, decreasing biodiversity, and contaminated water bodies can all be linked to development processes that are constantly spending natural capital without doing anything to 'top up' the account. To quote author and thought leader on natural resource restoration, Storm Cunningham: "Sustainable development? Who wants to sustain this mess?"
Rather than attempting to sustain the current level of decreasing ecological health and biodiversity, the focus should now be on restoring and regenerating. Design should be about repairing the ecological harm done by humans and moving to a state where ecosystems can function as intended.
At its core, regenerative development aims to enhance the ecosystem around it by producing a surplus of clean energy, water, habitat, and ecosystem services. It also aims to restore social capital, enhancing equality and prosperity in the surrounding community. For YRFSEC, there is an opportunity to 'do well by doing good.' By designing a building that supports and contributes to its surrounding ecosystem, it not only creates a structure meeting its functional requirements, but does so in balance with the environment and the local community.
This model of regenerative development may seem like a giant leap, but the founding principles are displayed daily as life regenerates. However, it does require the support of a client with tremendous foresight. York Region has been firmly committed to the ambitions of the YRFSEC and has understood from an early stage the legacy of regenerative development, and specifically, its embodiment in the project, will reap benefits for the community for years to come.
York Region partnered with the firm DIALOG and began an integrated design process (IDP) allowing participation in the process by a diverse group of users and stakeholders including forestry experts, landscapers, educators, and project managers. Community Forests International, a not-for-profit organization practicing forest stewardship in both Canada and Tanzania also facilitated workshops on education and engagement. As a result, a key mission statement for the project emerged: design a LEED Platinum building that might also be one of Canada's first Living Building Challenge-certified projects.
The Living Building Challenge
In the mid-2000s, the Cascadia Green Building Council launched a program that completely reimagined how buildings would interact with the world around them. The Living Building Challenge is designed to encourage the transformation of the world to be socially just, culturally rich, and ecologically restorative. Now administered by the International Living Futures Institute (ILFI), the LBC is the world's most advanced measure of sustainability in the built environment.
The challenge focuses on the metaphor of the building as a flower: it reflects its native bioregion, it generates its own energy, it captures and treats all of its water, and it is beautiful.
Building design and performance have seven 'petals:' place, water, energy, health and happiness, materials, equity, and beauty. Within these petals are 20 imperatives, prescriptive- or performance- based goals that contribute to the overarching goals of sustainability, equity, and regeneration.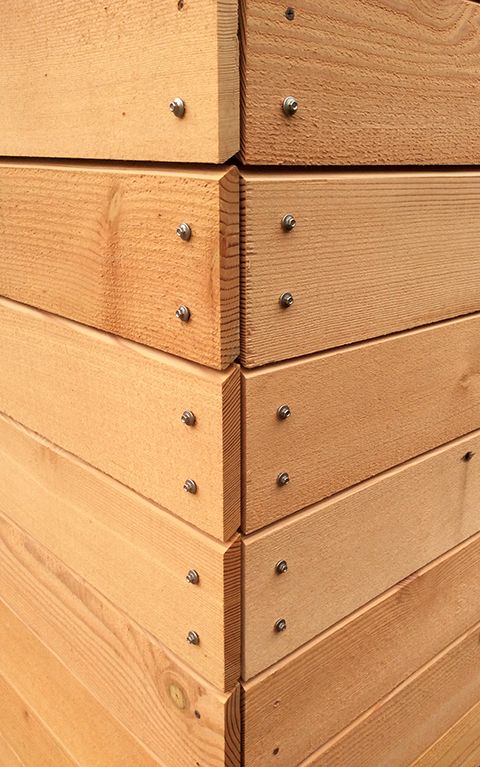 The LBC lives up to its name since meeting all its parameters typically entails more than 'business-as-usual' solutions and requires a fundamental change in philosophy. The focus is neither on doing a little bit better nor on doing less harm, but rather on embracing the 'end game'—bridging the gap to a future where buildings are a force of cultural and ecological regeneration.
Each of the seven petals of the challenge inspired design strategies and defined the form, function, and appearance of the YRFSEC.
Place
Removing the boundaries between the building and forest was the central goal of the building and site. By reflecting the site and ecosystem around it, the building becomes part of the natural environment and shares water, energy, and habitat.
Clad in salvaged wood and limestone indigenous to the area, the YRFSEC's exterior reflects the forest. Vertical green screens provide habitat on the building's exterior, extending the forest onto the building façade. Learning space spills from inside the building to outdoor classrooms on the wood deck and throughout the surrounding forest. Native plant species and a series of bioswales manage stormwater volumes.
Water
While nature continuously recycles and replenishes clean water supplies, human development too often follows the linear cycle of taking clean water from nature and sending it back full of sewage and contaminants. A living building must be 'net-positive water,' meeting 100 per cent of its water needs onsite using captured rainwater or other natural, closed-loop systems.
The YRFSEC captures rainwater that lands on the roof and stores it underground to be reused for flushing toilets and urinals in the building. Two wells supply water filtered and treated to be used in the kitchen, faucets, and showers. All wastewater is treated onsite by a biofiltration device that uses aerobic and anaerobic bacteria to naturally remove pollutants.
Energy
The threshold of regenerative design is to achieve 'net-positive energy' using onsite renewable power devices, such as solar panels and windmills, to generate more energy than the building needs. Net-positive buildings and neighbourhoods have no operating GHG footprint they facilitate a new, smart power grid fuelled by clean energy.
On the Hollidge Tract, net-positive energy meant a new design process. Being surrounded by a forest of 30.5-m (100-ft) tall pines is a blessing but makes designing a rooftop photovoltaic (PV) system challenging. Three-dimensional modelling was used to find out exactly where the building could be located so the PV panels had access to sunlight year-round. The 35kW PV system is estimated to generate 38 MWh annually. It is enough to power the building beneath it with some room to spare, but only if it is one of the most efficient buildings in Canada.
Finding the solution meant getting serious about passive solar design and shaping the building to minimize heating and cooling loads through all four seasons. A cantilevered roof projects over the south façade, shading the building from summer sun, but allowing winter sunlight into the building for passive heating. The walls and roof were detailed according to an approach dubbed 'Passive House-light' which is a R-60 roof, R-40 walls, and triple-paned, high-performance windows. Thermal imaging and blower door testing were used to find and seal air leaks and thermal bridges in the building envelope.
Clerestory glazing is provided throughout the building to provide natural light and a continuous connection to the outdoors. Operable windows in every space, both at the roof and at occupant level, invite a summer breeze to blow through the building. Floor-to-ceiling glazing is carefully located to give exceptional forest views without compromising on thermal performance. Overall, the building has less than a 30 per cent window-to-wall ratio (WWR).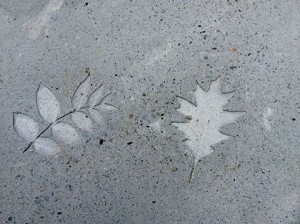 Inside the building, ventilation is provided by two energy recovery ventilators (ERVs). An air-to-air heat pump provides cooling to just one zone while others are cooled by ceiling fans and natural ventilation.
Heating is provided by electric cables embedded in the concrete floor slab. The radiant floors create a warm and pleasant environment, envisioned as a place of respite for visitors returning from a winter hike in the forest. This welcoming atmosphere is enhanced by a central hearth built around a masonry heater in the entrance lobby.
Overall, the building is forecast to use just 88.5 kWh/m2 (28.0 kBtu/sf) of power annually. This is right on par with Canada's most efficient educational buildings and low enough the building will be a net exporter of renewable energy.
Health
A building can be accurately called 'green' or 'regenerative' only when it is a healthy and pleasant place to be. Indoor environments providing natural light, clean air, warmth, and comfort help occupants stay healthy and happy. Regenerative buildings can go one step further by bringing the patterns and textures of nature into the indoor environment. This concept, known as biophilic design, indulges the ancient desire to be part of nature.
Throughout the YRFSEC, timber walls and polished concrete create the sensation of a walk in the forest. Long, slender windows are interrupted by slim wall sections with repeating strips of wood and glass mimicking the long trunks of the pine trees outside. The clerestory provides diffuse sunlight in all areas similar to rays of light penetrating the forest canopy. Imprints of leaves from the forest are embedded in the concrete, creating a trail reminiscent of the forest floor.
Materials
The YRFSEC naturally embraces wood as a building material in order to both reflect its site and provide inspiration for a new model of materialism. The structure is built almost entirely of wood, incorporating glued-laminated (glulam) beams and columns and a cross-laminated timber (CLT) roof. When sustainably harvested, timber is an abundant renewable resource in Eastern Canada. The new wood used on the project is 100 per cent Forest Stewardship Council (FSC) certified, like the timber produced on the Hollidge Tract. Other elements such as exterior wood cladding were salvaged from local buildings at the end of their life.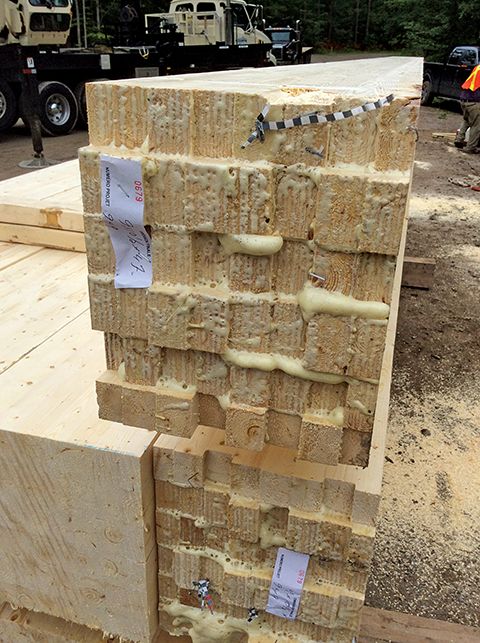 Materials were selected to be robust and adaptable, contributing to its 90-year service life that mirrors the forest's history. At the end of its useful life, the building can be deconstructed so the CLT and glulam might enjoy a second life on another project.
A material's extraction, processing, installation, operation, and disposal also have a huge impact on human health. Building materials need to be practical, durable, and cost-effective, but often they include toxic and harmful ingredients that become part of a building. In some cases, there is no way to confirm what is in a particular material. A cereal box comes with a list of ingredients, but flooring tiles do not.
The answer to the health and toxicity problem is disclosure with manufacturers declaring all the product ingredients. LBC requires this transparency for every product in the building and goes even farther, providing a 'red list' of prohibited materials that have demonstrated to
be harmful to human health.
Committing to the 'red list' requires collaboration from the whole project team—in this case, York Region, DIALOG, Struct-Con (the general contractor), and the sub-trades and manufacturers. DIALOG invested many hours in extensive research to ensure full compliance. The benefit is a healthier building and a big push toward a future where transparency is the norm and toxic materials are eliminated from building supplies.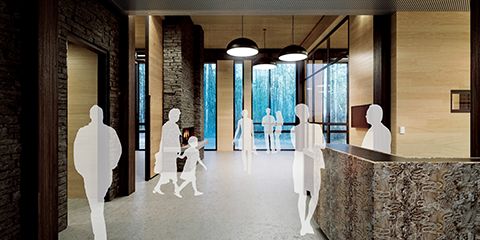 Equity and beauty
Any project that contributes to a sustainable or regenerative future needs to embrace equity providing for all cultures, orientations, and physical abilities.
York Region will make the YRFSEC available for free events, allowing people from all communities to experience the
building and learn about the forest. Access to the Hollidge Tract is free year-round. The onsite nature trails are all cleared and graded for wheelchair access and designed to Accessibility for Ontarians Disability Act (AODA) standards, making it one of very few sites of this type in North America.
If buildings are meant to stand the test of time, then they need to be attractive enough for people to cherish and preserve over several generations to come. LBC includes a requirement for "beauty and spirit," including features solely for human delight and celebration of culture, elements that are visually pleasing as much as they are functional or practical. While balancing all the challenging targets on the York Region project, beauty and esthetics were always preserved. The result is a building that truly reflects the place around it and the wonder of the forest ecosystem.
Creating regenerative development
Regenerative design is really just the method for achieving the ultimate goal: cultural and ecological restoration. Regenerative development builds the physical and cultural foundation for lasting change. While a structure takes years to design and build, an even longer period must pass before its impact in the ecosystem and community can be assessed.
Visiting the forest can be a transcendent experience, restoring the connection between human development and the ecosystem lost in today's world view. By educating visitors on the principles of sustainability, forestry, stewardship, and regeneration, the project can inspire change not just within one building but within the entire community.
Over the next 90 years, the goal will be to see a transformation just as striking as the one from blow-sands to the healthy forest and one where the relationship with place, materials, energy, water, and health is recalibrated to harmonize with the surrounding ecology.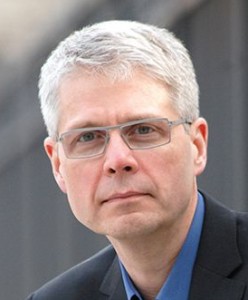 [8]Craig Applegath, PPOAA, AIBC, FRAIC, LEED AP, is a principal and founding partner of DIALOG's Toronto studio. Trained first as a biologist and then as an architect and urban designer, he is passionate about finding planning and design solutions that make sense in a world challenged by climate change and environmental deterioration. Since graduating from the Graduate School of Design at Harvard University with a master of architecture in urban design, Applegath has focused on leading complex institutional planning and design projects, and is internationally recognized for his design and advocacy of eco-effective, regenerative buildings and cities. He can be contacted by e-mail at capplegath@dialogdesign.ca.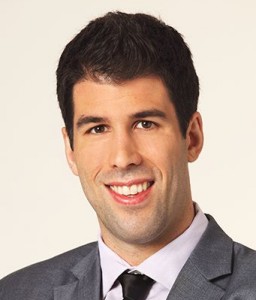 [9]Charles Marshall, P.Eng., LEED AP, is a sustainable design professional at DIALOG's Toronto studio. With a background in mechanical engineering, he has broad technical knowledge and collaborates with design teams to achieve the highest level of sustainability. Marshall has championed high standards in green design on a range of project types including renewable energy systems, energy retrofits, and new construction. He plays an active role in DIALOG'S integrated design process and has presented at conferences on the value it adds to clients, projects, and project teams. Marshall can be reached by e-mail at cmarshall@dialogdesign.ca.
Endnotes:
[Image]: http://www.constructioncanada.net/wp-content/uploads/2015/04/YORK_FSEC_Exterior.jpg
[Image]: http://www.constructioncanada.net/wp-content/uploads/2015/04/Cross-laminated-timber-in-situ.jpg
[Image]: http://www.constructioncanada.net/wp-content/uploads/2015/04/Cross-laminated-timber-soffit.jpg
[Image]: http://www.constructioncanada.net/wp-content/uploads/2015/04/Finished-reclaimed-wood-cladding.jpg
[Image]: http://www.constructioncanada.net/wp-content/uploads/2015/04/Local-plan-species-imprinted-in-concrete.jpg
[Image]: http://www.constructioncanada.net/wp-content/uploads/2015/04/Glulam-beams-on-site.jpg
[Image]: http://www.constructioncanada.net/wp-content/uploads/2015/04/001_YORK_FOREST-interior.jpg
[Image]: http://www.constructioncanada.net/wp-content/uploads/2015/04/Applegath-Craig-Headshot-Option2.jpg
[Image]: http://www.constructioncanada.net/wp-content/uploads/2015/04/Marshall-Charles-COL_3227_Pro-Credit-Jim-Dawson.jpg
Source URL: https://www.constructioncanada.net/creating-a-regenerative-building-in-southern-ontario/
---