Control layers explored in latest supplement
by nithya_caleb | March 13, 2020 10:14 am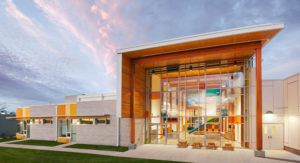 When designing building enclosures, several complex and integrated considerations are required. These include, in part, the water, air, vapour, and thermal control layers. While all are equally critical to the integrity of the building, an article in our newest digital supplement focuses on key considerations when specifying the thermal control layer at opaque walls for Canadian municipal, university, school, and hospital (MUSH) high-performance buildings.
What the MUSH grouping signifies for thermal control is a demanding expectation for enclosure durability (with public monies at stake, maintenance and life-cycle costs are significant considerations), energy efficiency, high interior environmental comfort, special purpose and variable space requirements for temperature, relative humidity (RH) and air pressure, zero-mould and moisture-damage tolerance, publicly accountable budgets, and exacting construction schedules.
"Three Key Concepts When Insulating High-performance Buildings" appears along with two other articles on institutional architecture in Evolving Concepts in Building Design, a free digital supplement. Click here[2] to read it.
Endnotes:
[Image]: https://www.constructioncanada.net/publications/ds/202003/index.html
here: https://www.constructioncanada.net/publications/ds/202003/index.html
Source URL: https://www.constructioncanada.net/control-layers-explored-in-latest-supplement/
---