Construction costs highest in Vancouver: Report
April 19, 2019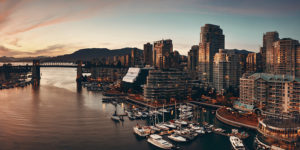 According to a newly released international construction market survey by Turner & Townsend[2], Vancouver is the most expensive place to build in Canada, and the 14th priciest location globally, with an average construction cost of US$2,720.8 per m2.
The report[3], which looks at global construction sector costs, the economic outlook, and market challenges (i.e. ripple effect of the ongoing global trade wards), has also identified the following:
all four Canadian cities surveyed this year (Vancouver, Toronto, Edmonton, and Ottawa), are classified as 'hot' construction markets;
Toronto was ranked the 27th most expensive place to build globally;
Toronto, Vancouver, and Ottawa are all experiencing a shortage of trade labour while Edmonton is one of only five markets worldwide to be in surplus;
Vancouver also has the highest labour costs of the Canadian markets, as a squeezed supply of skilled labour pushed costs to $US49.40 per hour; and
Vancouver is showing a very high impact of steel tariffs while Toronto, Edmonton, and Ottawa are all showing a high impact (i.e. in Toronto, steel prices for structural beams have increased 20 per cent per tonne since 2018).
Endnotes:
[Image]: https://www.constructioncanada.net/wp-content/uploads/2019/04/bigstock-VANCOUVER-BC-AUG-Vancou-291513871.jpg
Turner & Townsend: https://www.turnerandtownsend.com/
report: https://www.turnerandtownsend.com/en/insights/international-construction-market-survey-2019/
Source URL: https://www.constructioncanada.net/construction-costs-highest-in-vancouver-report/
---