Construction association awards showcase members' accomplishments
March 19, 2018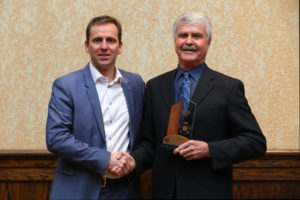 The Canadian Construction Association[2] (CCA) presented its annual awards during the 100th conference[3] held recently in Banff, Alberta. These awards recognize the important contributions of individuals, companies, and associations promoting and enhancing the Canadian construction industry.
Terry Brown of STBR Consulting is the recipient of the 2017 CCA Person of the Year Award. Pomerleau[4] was recognized with the 2017 CCA Excellence in Innovation Award for creating a strong, innovative culture. It is one of the first general contracting construction companies in the country to be certified with Level-1 building information modelling (BIM) proficiency.
Bird Construction and Maple Reinders won the Environmental Achievement Award for implementing environmentally-sound practices in their composting facility project with the City of Calgary.
Lystek International[5], a division of the Tomlinson Group of Companies, won the International Business Award
Groupe C. Laganière, a family business specializing in the identification and elimination of environmental risks, was presented with the National Safety Award.
The Grand Valley Construction Association[6] won the 2017 Partner Association Award for its work in addressing the individual members' needs in industry enhancement, education, and membership services.
The Community Leader Award went to Paul Seibel (ACL Steel[7]) for his dedication to ethics and community work.
Newfoundland and Labrador Construction Association won the Gold Seal Association Award for its carefully-constructed approach to promoting the Gold Seal Certification program, which supports the development of skilled construction and heavy civil management professionals across the country.
CCA presented Brendan Nobes with the 2017 CCA General Contractors Award and Ross McLean (Houle Electric) with the Trade Contractor Award.
The Civil Infrastructure Award went to Gilbert Brulotte (EllisDon).
Glenn Ackerley (WeirFoulds) won the Manufacturers, Suppliers and Services Award.
For the full list of award winners, click here[8].
Endnotes:
[Image]: https://www.constructioncanada.net/wp-content/uploads/2018/03/Award.jpg
Canadian Construction Association: http://www.cca-acc.com/
conference: http://conference.cca-acc.com/
Pomerleau: http://pomerleau.ca/
Lystek International: http://lystek.com/
Grand Valley Construction Association: https://gvca.org/
ACL Steel: http://www.aclsteel.ca/
here: http://awards.cca-acc.com
Source URL: https://www.constructioncanada.net/construction-association-awards-showcase-members-accomplishments/
---