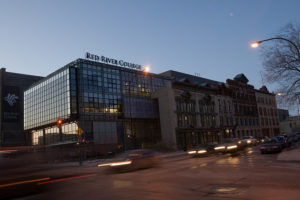 Winnipeg's Red River College is building a 9290-m2 (100,000-sf) innovation centre at an estimated cost of $95 million. The development will comprise new construction and incorporate a repurposed downtown heritage building, providing state-of-the-art facilities that will help create jobs, expand research, and foster innovation in the city's Exchange District.
The institution recognizes the important role innovation and industry partnerships play in creating the best opportunities for today's workforce—the innovation centre will reflect this outlook. Some of the centre's features for advancing student projects to marketplace include a pitch session room and open teaching areas, which the college calls 'collision'—spaces where students work alongside industry and social service partners.
The project received $40.6 million in funding from the federal government through its post-secondary institutions strategic investment fund, which stipulates a fast-track timeline for construction.
The college is currently in the early stages of implementing a major fundraising campaign—the largest in the institution's history—to raise the additional $54.8 million.
The project site includes the 100-year-old, three-storey Scott Fruit Building. An existing structure is being demolished for new construction and building site preparations are underway. Construction is expected to begin within 12 months.
Diamond Schmitt Architects and Number TEN Architectural Group were selected for their combined team experience in designing flexible, collaborative educational spaces that can readily be adapted as learning methods evolve to keep pace with workplace changes.
"We are excited to work with Red River College to design a facility that prepares students for their careers and enables both the college and the business community to work together," said Sydney Browne, principal at Diamond Schmitt Architects.