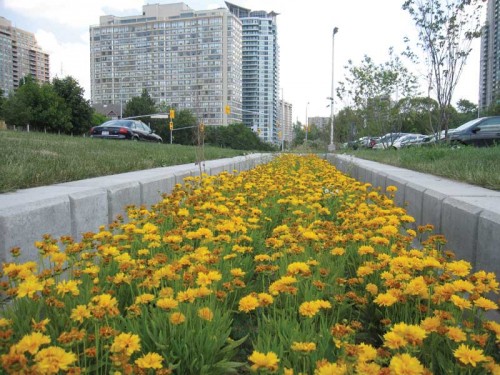 By Alisha Chauhan, B.Sc., Robb Lukes, PE, M.Sc., Christine Zimmer, M.Sc.(Eng.), P.Eng., and Jakub Wrobel, H.B.Sc.
Low-impact development (LID) is a holistic approach to stormwater management. This clean-water technology has demonstrated both esthetic and economic benefits; it mimics the natural water cycle to manage stormwater close to where it falls. (See Dr. G. Krantzberg's "A Valuation of Ecological Services in the Great Lakes Basin Ecosystem to Sustain Healthy Communities and a Dynamic Economy," prepared for the Ontario Ministry of Natural Resources in 2006).
More developers, architects, and contractors are adopting LID practices in their developments to effectively manage stormwater onsite. This helps reduce infrastructure costs and offers unique green urban landscape features to their customers.
Stormwater management's evolution to LID
The International Joint Commission (IJC) has long recognized the need for stormwater management to protect water quality and biodiversity of the Great Lakes. The Great Lakes Basin is the largest freshwater ecosystem in the world, and contributes billions of dollars in gross domestic products (GDPs) and fisheries annually to the economies of Canada and the United States. ( See Martin Associates' 2011 report, "The Economic Impacts of the Great Lakes–St. Lawrence Seaway System.") It is a valuable water resource and economic asset providing livelihood to more than 40 million people. Protecting this basin through innovative stormwater management is a priority.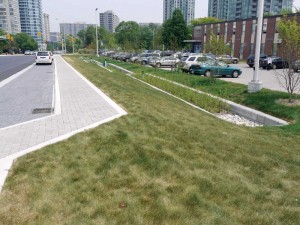 Stormwater management is an evolving science across Ontario, visible in neighbourhood developments as in-the-ground practices reflect the year the development was built. Before the 1970s, urban stormwater was directed through sewers to receiving waterways without treatment. During the 1970s and early 1980s, stormwater management concerns consisted of controlling peak flows or flooding.
Since the 1980s, stormwater management has evolved from the typical end-of-pipe stormwater management ponds—designed to remove up to 80 per cent of suspended solids from runoff and peak flows—to LID at site. One reason this shift occurred is recent literature, site-monitoring, and provincial initiatives suggest the end-of-pipe approach is not sufficient to reduce erosion and protect water quality. Low-impact development is being applied in Ontario, British Columbia, Alberta, United States, Australia, and Europe.
Enhancing the bottom line
LID practices serve as an economic means of meeting water quality and erosion objectives through implementing:
vegetated roofs;
permeable pavement;
bioretentions;
harvesting of rainwater; and
bioswales.
Low-impact development complements and meets municipalities' green development standards and stormwater management and provincial planning requirements.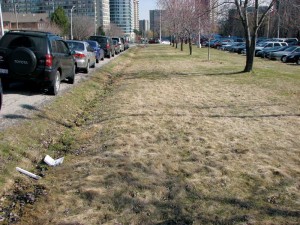 An integral component of LID practices is landscape design, which improves esthetics and raises property value while increasing public enjoyment. LID provides stormwater management options that optimize urban form to allow for greater developable space and added value for customers. Development with LID has had an average reported savings of 24 per cent compared with buildings that use conventional storm water infrastructure. (For more, see the United States Environmental Protection Agency's (EPA's) 2007 report, "Reducing Stormwater Costs through LID Strategies and Practices.")
Implementing LID features within a Brampton, Ont., community allowed Sequoia Grove Homes to reap benefits, explains principal Giulio Bianchi.
"First, we have avoided the need for a stormwater pond onsite, thereby increasing the number of developable lots within the community," he says. "We were also able to provide homeowners with unique landscaped features, including 'bioretention' planters within road right-of-ways in the western portion of the site and a large planted bioretention swale on the eastern portion."
Despite the province's early recognition of LID practices in 1991, its application has been limited to demonstration sites scattered throughout Ontario. In an effort to promote innovative technologies on a wide-scale basis, the province has provided $17 million to communities across Ontario. Additionally, to transfer knowledge and encourage innovation in watershed management, Credit Valley Conservation (CVC) and Toronto and Region Conservation Authority (TRCA) have received funding to develop guidance on LID design, construction, and maintenance.
CVC: a leader in LID
In 2010, CVC and TRCA published LID Stormwater Management Planning and Design Guide, as it had become apparent supplemental guidance and training was needed to target the construction industry. LID is a new form of stormwater management and urban design for Ontario, and many engineers and contractors are unfamiliar with how to properly construct these systems.
Unlike end-of-pipe controls, LID practices are an integral part of the urban form and require a different approach to construct. Low-impact sites require attentiveness throughout the construction process as to location, intended function, and protection from sediment-clogging and over-compaction. The stabilization of the contributing sub-catchment becomes critical to the success of LID features, as is their unique outlet configurations and specified materials.

Control the content you see on ConstructionCanada.net!
Learn More.