Clean Economy Alliances report pushes Ontario to reduce GHG emissions in building sector
by Samantha Ashenhurst | December 1, 2017 8:56 am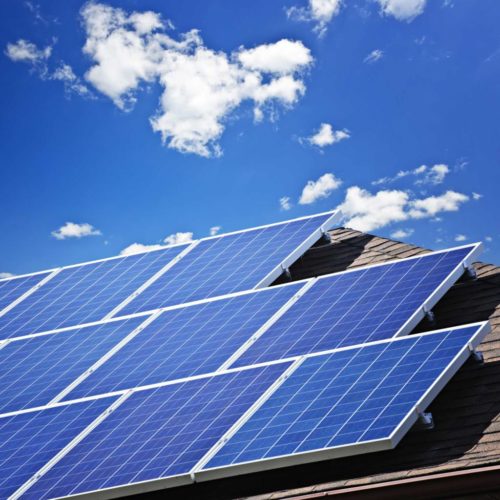 Last month, the Clean Economy Alliance[2] (CEA) released a report outlining recommendations to reduce greenhouse gas (GHG) emissions from Ontario's building sector. The report, "The Future of Buildings: Getting Ontario Ready for Net-Zero[3]," speaks to upcoming changes in the province's building code and Ontario's commitment to require all buildings constructed after 2030 to have net-zero emissions.
"Currently, the building sector produces almost one quarter of Ontario's GHG emissions," says Keith Brooks, programs director for Environmental Defence[4]. "In some urban areas like Toronto, that rises to half. With a growing population, Ontario needs transformative changes in the way we build and renovate buildings, and we need them now—before the current building boom locks in more polluting emissions. Updating Ontario's building code holds the potential to greatly reduce these emissions."
The report is the result of a months-long consultation process involving more than 100 organizations associated with the CEA, including Environmental Defence, Blue Green Canada[5], and Integral Group[6]. It details key recommendations on strategies for improving building energy performance and creating local jobs through energy retrofits. Some examples detailed in the report include:
the increase of building sector training programs and investments to develop low-carbon design, construction, and evaluation skills;
ensuring the alignment of new Ontario building codes with provincial and federal GHG emission targets;
the review of levels of energy efficiency and carbon emissions from the province's existing buildings; and
the expansion and promotion of retrofit opportunities.
"Retrofitting existing buildings is key to reducing emissions," says Jay Nordenstrom, executive director of the North American Insulation Manufacturers Association[7] (NAIMA). "Most of the buildings standing today will still be standing in 2030, in 2050 even. But they were built at a time when energy efficiency was less of a priority. Stimulating a retrofit economy will not only be integral to meeting Ontario's emissions targets, but will create thousands of jobs in the industry. To feed this demand for skilled workers, we need to ramp up building sector training programs for low-carbon construction."
The report also emphasizes the need for the Ontario building code to empower cities with existing climate change plans and target (e.g. Toronto's TransformTO[8]), as such support would allow municipalities to tackle building emissions more aggressively.
"Ontario needs a common framework for innovation that charts a clear path to net-zero buildings," says Dave Ramslie, a sustainability policy expert who consulted on the report. "The current incremental approach does not yield consistent results and leaves industry guessing. Allowing municipalities to implement green development standards at a faster pace will move technologies and workers along the adoption curve. This will help bring down costs and ensure the workforce is ready when this needs to scale up."
CEA asserts following the recommendations outlined in the report will guide the province in reducing GHG emissions in its building sector, create jobs, and better prepare Ontario for the future.
"We have the ability to create net-zero buildings today," says Terry Olynyk, PCL Constructors[9]. "And they're not just better from an environmental perspective—they're better buildings. For the 2030 net-zero target to become the new normal, we need everyone—the province, the builders, financiers, homeowners and buyers—collaborating to evolve innovations like modular offsite construction, solar-ready roofs, and geothermal energy."
Endnotes:
[Image]: https://www.constructioncanada.net/wp-content/uploads/2017/12/bigstock_solar-edit.jpg
Clean Economy Alliance: http://www.cleaneconomyalliance.ca/
The Future of Buildings: Getting Ontario Ready for Net-Zero: http://cleaneconomyalliance.ca/wp-content/uploads/2017/10/FutureBuildingsReport-FINAL.pdf
Environmental Defence: https://environmentaldefence.ca/
Blue Green Canada: https://bluegreencanada.ca/
Integral Group: http://www.integralgroup.com/
North American Insulation Manufacturers Association: https://insulationinstitute.org/
TransformTO: https://www.toronto.ca/services-payments/water-environment/environmentally-friendly-city-initiatives/transformto/
PCL Constructors: http://PCL%20Constructors
Source URL: https://www.constructioncanada.net/clean-economy-alliances-report-pushes-ontario-reduce-ghg-emissions-building-sector/
---