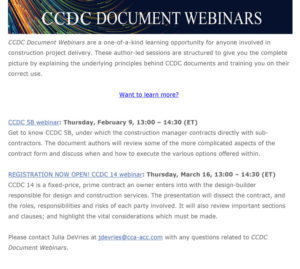 CCDC Document Webinars are a one-of-a-kind learning opportunity for anyone involved in construction project delivery. These author-led sessions are structured to give you the complete picture by explaining the underlying principles behind CCDC documents and training you on their correct use.
CCDC 5B webinar: Thursday, February 9, 13:00 – 14:30 (ET)
Get to know CCDC 5B, under which the construction manager contracts directly with sub-contractors. The document authors will review some of the more complicated aspects of the contract form and discuss when and how to execute the various options offered within.
REGISTRATION NOW OPEN! CCDC 14 webinar: Thursday, March 16, 13:00 – 14:30 (ET)
CCDC 14 is a fixed-price, prime contract an owner enters into with the design-builder responsible for design and construction services. The presentation will dissect the contract, and the roles, responsibilities and risks of each party involved. It will also review important sections and clauses; and highlight the vital considerations which must be made.
Please contact Julia DeVries at jdevries@cca-acc.com with any questions related to CCDC Document Webinars.
---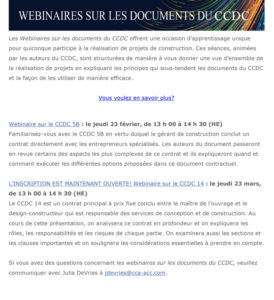 Les Webinaires sur les documents du CCDC offrent une occasion d'apprentissage unique pour quiconque participe à la réalisation de projets de construction. Ces séances, animées par les auteurs du CCDC, sont structurées de manière à vous donner une vue d'ensemble de la réalisation de projets en expliquant les principes qui sous-tendent les documents du CCDC et la façon de les utiliser de manière efficace.
Webinaire sur le CCDC 5B : le jeudi 23 février, de 13 h 00 à 14 h 30 (HE)
Familiarisez-vous avec le CCDC 5B en vertu duquel le gérant de construction conclut un contrat directement avec les entrepreneurs spécialisés. Les auteurs du document passeront en revue certains des aspects les plus complexes de ce contrat et ils expliqueront quand et comment exécuter les différentes options proposées dans ce document contractuel.
L'INSCRIPTION EST MAINTENANT OUVERTE! Webinaire sur le CCDC 14 : le jeudi 23 mars, de 13 h 00 à 14 h 30 (HE)
Le CCDC 14 est un contrat principal à prix fixe conclu entre le maître de l'ouvrage et le design-constructeur qui est responsable des services de conception et de construction. Au cours de cette présentation, on analysera ce contrat en profondeur et on expliquera les rôles, les responsabilités et les risques de chaque partie. On examinera aussi les sections et les clauses importantes et on soulignera les considérations essentielles à prendre en compte.
Si vous avez des questions concernant les webinaires sur les documents du CCDC, veuillez communiquer avec Julia DeVries à jdevries@cca-acc.com.