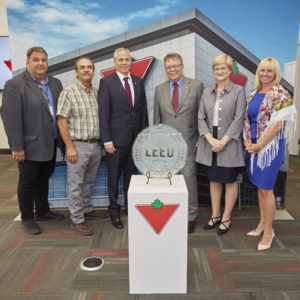 Canadian Tire's distribution centre in Caledon, Ont., has received the Leadership in Energy and Environmental Design (LEED) Gold certification by the Canada Green Building Council (CaGBC).
The 130,064-m2 (1.4 million-sf) distribution centre is designed to be 46 per cent more energy efficient, reduce annual energy costs by 39 per cent, and avoid over 1700 tonnes of greenhouse gas (GHG) emissions per year.
"As a trusted Canadian retailer that cares deeply about our communities, we are undertaking initiatives to reduce our company's GHG emissions and help address the climate change issues currently impacting our country," said Robyn Collver, chief sustainability officer, Canadian Tire.
The facility's green features include:
onsite hydrogen generation to fuel mobile equipment using hydrogen fuel cells;
an automated system controlling airflow and circulation and moderating temperatures;
the use of sustainable materials throughout construction;
an integrated stormwater management system;
large windows to increase daylight and reduce electricity use and consumption; and
'responsible transportation' features, such as bicycle storage and electric vehicle chargers.