Canadian projects among tall building finalists
by Samantha Ashenhurst | February 13, 2018 9:46 am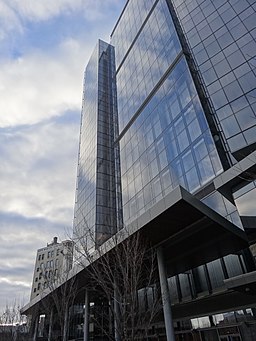 The Council on Tall Buildings and Urban Habitat[2]'s (CTBUH's) Tall + Urban Innovation Conference[3] will take place at Chicago's Aqua Tower from May 30 to 31. The annual symposium explores and celebrates the best in innovative buildings, urban spaces, building technologies, and construction practices from around the world.
The two-day conference will include an awards banquet to announce the recipients of the CTBUH Annual Awards. The event will also feature presentations by this year's finalists[4], which includes two Canadian projects.
Vancouver's Brock Commons TallWood House[5] made the short-list for the Innovation Award, which recognizes a specific area of recent innovation in a tall building project. Designed by Fast + Epp[6], the University of British Columbia[7] (UBC) residence has the distinction of being the tallest mass timber structure in the world. (To read more about this project, click here[8].)
Meanwhile, Manitoba Hydro Place[9] in Winnipeg is among the finalists for the 10 Year Award, honoring projects which have demonstrated proven value and performance a decade after completing construction. Since opening in 2008, Manitoba Hydro has achieved Leadership in Energy and Environmental Design[10] (LEED) Platinum certification under the Canada Green Building Council[11] (CaGBC). (To read more about Manitoba's achievements in LEED design, click here[12].)
To read about previous CTBUH Award recipients, click here[13].
Early bird registration for the conference ends March 28. For details, click here[14].
Endnotes:
[Image]: https://www.constructioncanada.net/wp-content/uploads/2018/02/Manitoba_Hydro_building_WikimediaCommons_Krazytea.jpg
Council on Tall Buildings and Urban Habitat: http://www.ctbuh.org/
Tall + Urban Innovation Conference: http://tallinnovation2018.com/
finalists: http://awards.ctbuh.org/winners/?award-year=2018#tabs-years
TallWood House: http://vancouver.housing.ubc.ca/residences/brock-commons/
Fast + Epp: http://www.fastepp.com/index.php/en/
University of British Columbia: https://www.ubc.ca/
here: https://www.constructioncanada.net/introducing-brock-commons-looking-up-to-the-worlds-tallest-contemporary-wood-building/
Manitoba Hydro Place: https://www.hydro.mb.ca/corporate/mhplace/building.shtml
Leadership in Energy and Environmental Design: https://www.cagbc.org/@/CAGBC/Programs/LEED/Going_green_with_LEE?hkey=54c44792-442b-450a-a286-4aa710bf5c64
Canada Green Building Council: https://www.cagbc.org/Default.aspx
here: https://www.constructioncanada.net/manitoba-and-canada-celebrate-green-building-landmarks/
here: https://www.constructionspecifier.com/ctbuh-announces-2016-tall-building-award-winners/
here: http://tallinnovation2018.com/registration-rates/
Source URL: https://www.constructioncanada.net/canadian-projects-among-tall-building-finalists/
---