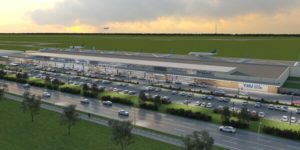 Porter Aviation Holdings Inc. (PAHI) is partnering with Montreal's Saint-Hubert Airport (YHU) to develop a new terminal with an annual capacity of more than four million passengers. Construction will begin in mid-year and should be completed by the end of 2024.
Working with Scott Associates Architects Inc., HH Angus is providing mechanical and electrical engineering services for the 20,000-m2 (225,000-sf) terminal building. All systems will be designed to fully operate on electric power. There will be nine boarding gates, lounge-style seats for passengers, food and beverage counters and stores, a passenger and baggage handling area, and security screening facilities.
The layout of the YHU terminal is inspired by the successful revitalization of the Billy Bishop Toronto City Airport (YTZ), which Porter has been a part for 17 years. The airport welcomes nearly three million passengers a year, serves more than 20 destinations, and generates economic spinoffs of $3 billion annually.
The YHU terminal will enable faster passenger processing and significant travel time savings, and provide a comfortable departure lounge, similar to YTZ.
Porter Airlines (Porter) will then have a second airport for the Montreal market. As such, the airline will continue to expand its operations at Montreal Trudeau Airport (YUL), while building a convenient Canada-wide network at Vancouver International Airport (YVR).
More than 10 possible routes from YVR have been identified, from Vancouver in the west to St. John's in the east. Porter also intends to connect YHU to its two Toronto hubs, YTZ and Toronto Pearson International Airport (YYZ).
"Saint-Hubert has incredible potential as a complementary secondary airport for Montreal. Its location is convenient for a significant portion of the local market and allows easy access to downtown Montreal," says Michael Deluce, president and CEO, PAHI. "We have proven the relevance of this concept at Billy Bishop, one of the best urban airports in the world, and we look forward to working with our partners in Saint-Hubert to make this project a success."
The new terminal will be open to other airlines, including Pascan Aviation. Pascan's current YHU network focuses on Quebec regional flights. Porter and Pascan intend to establish a codeshare partnership which will facilitate the seamless movement of passengers between their respective airlines. This will also provide more opportunities to travel to Quebec and to different regions of Canada.