Canada's top sustainability projects honoured
October 10, 2017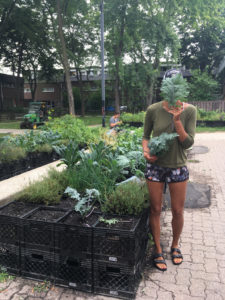 The country's top sustainability projects were honoured at the seventh annual Clean50 Summit[2], held in late September in Toronto. The 2018 Canada's Clean50 Top Projects[3] list celebrates 20 enterprises by groups ranging from large corporations and municipalities to university students and individuals.
This year's winners were drawn from a robust list of nominees and include endeavours as varied as building highly productive portable farms in milk crates[4], creating net-zero energy affordable town homes in Edmonton[5], and turning carbon dioxide (CO2) and a mill's waste heat into millions of cucumbers at an adjacent greenhouse[6].
Other awardees include:
a B.C. community[7] that sold solar panels to individual members in a shared 'solar garden'—the energy produced by the panels reduced energy bills at homes often blocks away;
Queens[8] (Kingston, Ont.) and York[9] University (Toronto) students for innovative solar projects;
Campbell Company project[10] for eliminating 1 million kg (2.2 million lb) of food waste;
the world's most efficient insect farm in Norwood, Ont.[11]; and
development of a platform and 'app'[12] in British Columbia that ensures food waste gets diverted to food banks instead of landfills.
The selected projects represent 20 different ways in which Canadians are demonstrating leadership and working to enhance overall sustainability. Each venture was selected for their positive impact, innovation, and their ability to inspire fellow countrymen.
The Clean50 awards and summit was founded in 2011 by Delta Management Group, a clean tech search firm in Canada. It brings together thought leaders and environmental experts to tackle sustainability problems, as well as recognize and promote their accomplishments in the hopes of inspiring others. For more information on the winning projects, click here[13].
Endnotes:
[Image]: https://www.constructioncanada.net/wp-content/uploads/2017/10/clean.jpg
Clean50 Summit: http://clean50.com/
Canada's Clean50 Top Projects: http://clean50.com/top-15-projects/top-20-projects-for-2018/
building highly productive portable farms in milk crates: http://www.boweryproject.ca/
creating net-zero energy affordable town homes in Edmonton: http://clean50.com/project/right-home-housing-society-net-zero-affordable-townhomes-large-families/
turning carbon dioxide (CO2) and a mill's waste heat into millions of cucumbers at an adjacent greenhouse: http://blog.resolutefp.com/2016/12/mission-accomplished-toundra-greenhouse/
B.C. community: http://www.nelson.ca/223/Community-Solar-Garden
Queens: http://www.queensu.ca/
York: http://clean50.com/project/york-university-solar-charging-electric-vehicles/
Campbell Company project: https://provisioncoalition.com/Assets/ProvisionCoalition/Documents/Articles/CampbellsCaseStudy.pdf
insect farm in Norwood, Ont.: http://entomofarms.com/
development of a platform and 'app': https://foodmesh.ca/
here: http://clean50.com/top-15-projects/top-20-projects-for-2018/
Source URL: https://www.constructioncanada.net/canadas-top-sustainability-projects-honoured/
---