Canada's first multifamily, net-zero energy building to rise in London
by sadia_badhon | January 30, 2019 4:33 pm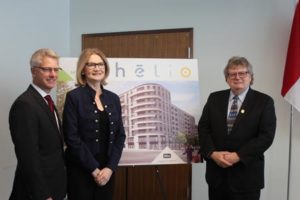 Canada's first mixed-use, multi-unit residential high-rise, net-zero energy building will rise up in London, Ont. The federal government is investing $3.9 million in the project.
The building aims to demonstrate the feasibility of net-zero energy at a community level, and inspire change across Canada's construction industry, as part of the government's efforts to use renewable energy technologies towards global climate change goals.
Funded through Natural Resources Canada's (NRCan's) Energy Innovation Program[2], Sifton Property's Helio building will include a monitoring system that will be used to optimize energy-efficient performance.
"Helio will be the most energy-efficient high-rise in Canada, designed and constructed to be 77 per cent more efficient than a similar building built under the current Ontario Building Code [IBC]," said Richard Sifton, president of Sifton Properties. "This is quite an accomplishment, and there is no doubt that the Energy Innovation Program has enabled us to push Helio further than thought possible."
Endnotes:
[Image]: https://www.constructioncanada.net/wp-content/uploads/2019/01/Opener-20.jpg
Energy Innovation Program: https://www.nrcan.gc.ca/energy/funding/icg/18876
Source URL: https://www.constructioncanada.net/canadas-first-multifamily-net-zero-energy-building-to-rise-in-london/
---