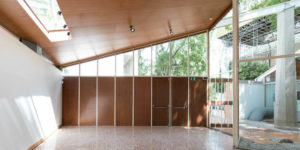 The Canada Council for the Arts invites exhibition proposals for Canada's official representation at the 18th International Architecture Exhibition – La Biennale di Venezia, a prestigious exhibition and international platform that engages critical conversations about contemporary architecture that attracts 300,000 visitors annually.
The selected team will be responsible for all aspects of the exhibition, from conception and design to production.
The exhibition will take place at the Canada Pavilion in the Giardini from May to November 2023. The Canada Council for the Arts is looking for proposals with bold ideas that inspire, challenge, and respond to current realities through the lens of contemporary Canadian architecture.
Continuing its commitment to enhance the presence and profile of Canadian artists and arts professionals abroad, the Canada Council for the Arts, as Commissioner, oversees Canada's official participation, advises the selected team, and contributes $500,000 towards the exhibition production.
The selection committee is comprised of the following members:
Brigitte Shim, FRAIC, CM, RCA, Hon. FAIA, OAA, Architect, Principal, Shim-Sutcliffe Architects (Toronto) ǀ Professor, John H. Daniels Faculty of Architecture, Landscape, and Design, University of Toronto (Toronto)
Neeraj Bhatia, RA, OAA, SM.Arch, B.Arch, B.E.S, Architect and Urban Designer, Principal, THE OPEN WORKSHOP (Toronto and San Francisco) ǀ Associate Professor, California College of the Arts (San Francisco)
Annie Lebel, MOAQ, LEED Green Associate, Architect, Principal, in situ atelier d'architecture (Montreal) ǀ Lead of Practical Training, Faculty of Environmental Design, Université de Montréal (Montreal)
Alison Brooks, RIBA, FRSA, RDI, Doc Eng (hon causa), Architect, Principal and Creative Director, Alison Brooks Architects (London, UK) ǀ Visiting Professor, Escuela Técnica Superior de Arquitectura de Madrid (Spain) and Loughborough University School of Architecture, Building and Civil Engineering (UK)
Shortlisted candidates from the call for expression of interest will be invited to fully develop their proposal and participate in an interview with the selection committee. The selected team and proposal will be announced in March 2022.