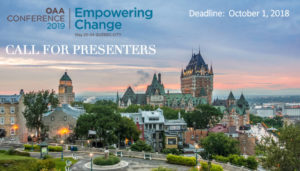 The Ontario Association of Architects (OAA) is inviting individuals and organizations to submit proposals for continuing education (ConEd) sessions at the 2019 OAA Annual Conference. The event takes place at the Québec City Convention Centre and Fairmont Le Château Frontenac from May 22 to 24, 2019.
The three-day interdisciplinary forum brings together Ontario architects, interns, students, engineers, interior designers, and other allied professionals. In addition to ConEd seminars, it includes workshops, panel presentations, architectural tours, and social events.
The 2019 OAA Annual Conference is titled Empowering Change. Experts are being sought to discuss topics related to architectural design, ranging from heritage building restoration and sustainability to project management, building codes, and construction law.
Visit the Call for Presenters page to learn more about the opportunities and process, including how to submit a brief outline for consideration. Click here for the application form.
The deadline for ConEd session proposals is October 1. All selected presenters will be contacted by December 21.