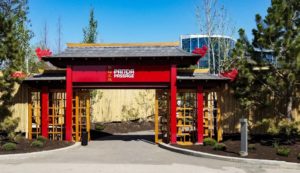 The Calgary Zoo's Panda Passage has received a Petal Certification for its commitment to cutting-edge habitat design. This is the first project in Alberta to earn this prestigious award.
Petal Certification is part of the International Living Future Institute's (ILFI's) Living Building Challenge and recognizes achievement of the world's most rigorous building standards. Certification means the zoo is taking action to ensure the space gives back more than it takes through design and construction.
"The zoo and ILFI share similar goals and values and Panda Passage is a wonderful reflection of this," said Parker Helble, certification manager at ILFI. "Panda Passage successfully incorporates beauty, biophilia, conservation, health, equity, and education at the intersection of species. We hope the exhibit inspires others to appreciate the beauty and importance of nature and consider these principles in their work and everyday lives."
The zoo achieved four petals toward certification including health and happiness, materials, equity, and beauty. The passage design was inspired by the symbiotic relationship between the pandas, people, and the building.
Construction on the $14.4 million Panda Passage began in 2016 and was completed in May 2018. The habitat features 431 m2 (4639 sf) of two indoor lush habitats and 1512 m2 (16,275 sf) of outdoor habitat.